BY JIMITOTA ONOYUME
PORT HARCOURT – Governor Nyesom Wike has said he has no intention to run for Vice President in 2019, indicating that he would want to contest for a second term as governor of the state.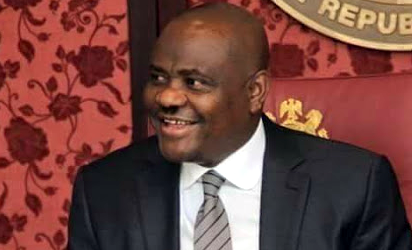 The governor dropped this hint Sunday at Government House, Port Harcourt when he played host to Chief Raymond Dokpesi, a national chairmanship aspirant of the Peoples Democratic Party, PDP at the party's national convention.
"I am a first term governor. How can I leave my state to go and vie for the post of Vice President?", he said
The governor also spoke against call for micro zoning of office of the national Chairman at the convention, stressing that all the party needed now were leaders that would drive it to victory in 2019.
He said he would collaborate with others for the success of the party.
He said: "No region has been left out. PDP is not in power. PDP is an opposition party. We are working for a chairman that will drive PDP and make PDP to win elections.
"The chairman is not going to share contracts to any zone for you to say a particular zone is left out. It is only when a government is formed that you talk about a zone being left out"
On his part, national Chairmanship Aspirant, Chief Raymond Dokpesi enjoined delegates from the state to vote for him, adding that he was in the state to appeal for the support of the governor and drum his campaigns in the state ahead of the elections.