When Nkiru Olumide-Ojo decided to write this book titled The Pressure Cooker, one prominent thought in her mind was to relive a serious conflict of a working woman from her perspective.  "Experience is not the best teacher; learning from the successes and failures of others is always faster and usually less painful," she says.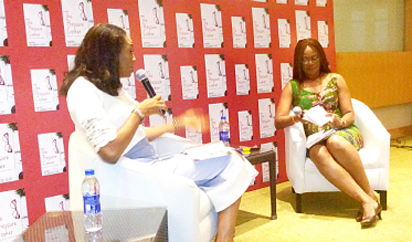 The Pressure Cooker, 'lessons from a woman at work' is a concise book published to aid women who are finding it difficult to strike a balance between home, office and career. The book was launched recently in Lagos with Adesua Onyenokwe as the anchor person while Toni Khan was the reviewer with members of Women in Business (WIMBIZ) community in attendance.
The author, Nkiru Olumide-Ojo, a marketing and communication professional, wrote about her experience – how she started and climbed to executive level; and from working as a single woman to being a working mum. The Pressure Cooker as a published book turns out to be an inspiration gathered from her weekly column writing in BusinessDay Newspaper.
As is often said, a woman climbing the job ladder in a male-dominated society is a herculean task, but the truth is that gender shouldn't be an issue when shopping for a qualified person to fill a top position in a workplace. However, gender parity has always been an issue, not only in workplace but across socio-cultural terrain. Women have assiduously strived to break the glass ceiling and also discovered that it only takes wits to succeed. This has also changed the narrative about women in business, politics and in office positions.
In her preface, the author writes: 'Growing up in Port Harcourt, I often had people ask me, "Don't you know you're a girl?". Such question, she says, comes whenever she performed what seemed to be gender-defying acts to them, like climbing trees with her male cousin and riding bicycle on the streets. "For me, as a child, I could not unpack what that statement meant, but because of the context in which it was usually used, I knew that it was supposed to be a "restraining" statement," Nkiru says.
To her, growing up and hearing such comments was a defining moment when she realised that she needed not to be told that she cannot succumb to any dominance from any quarter. It was a propelling factor that saw her through in her quest to stand out.
"I sought many things in those early years, often times without knowing it. Confronting again and again by the unspoken "Don't you know you're a girl?" when it came to my career goals and my desire to get ahead in the workplace, I desperately wanted mentorship and guidance that would speak to my life as a woman in the workplace. I did not find either as early as I would have liked," Nkiru laments.
The 111-page book with nine chapters dealing with several issues confronting a working mum is a wisdom nugget, down-to-earth truth, spiritual principles and a roadmap for any woman who wants to strike a balance between work and home. It is also a guide on moving forward in career pursuits without bias or self-alienation. With chapters in no chronological order that includes Mum at work, Get over yourself and get ahead, The boys club, Your partner and your work, Managing up: you and your boss among others, Nkiru is able to define and treat vital and confronting issues women face in workplaces.
MO Abudu in her comment said: "One key thing we all have as women is a God-given strength to cope with the pressures of balancing relationships, confronting challenges and recognising and seizing opportunities. While Sola David-Borha also said in the Foreword that "The greatest challenge that women face is removing the glass ceiling in their minds which blinds them from taking on great opportunities that distract them from reaching their goals."
With concise wisdom nuggets found in this book, The Pressure Cooker, Nkiru has stirred a dialogue about  working mothersachieving results  in office space and how best to be a successful career woman in patriarchal system.