By Denrele Animasaun
'Karma comes after everyone eventually. You can't get away with screwing people over your whole life, I don't care who you are. What goes around comes around. That's how it works. Sooner or later the universe will serve you the revenge that you deserve'-Jessica Brody.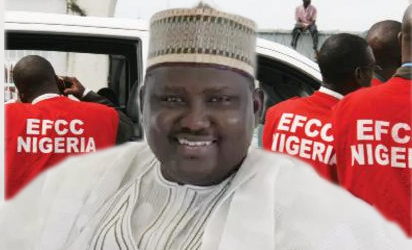 Early this week, I received an email from a reader regarding Maina saga. Unfortunately, cases such as Maina are no longer unique, at least, not by Nigerian standards. We have become so numb to grand theft that it is commonplace.
It should not be and it is not normal. This is very serious, and sadly, it leaves multiple victims in its wake, who like my reader below, have lost thousands and millions of Naira in this Ponzi scheme. See below the email:
"Dear Denrele,
I am one of your followers in the Sunday Vanguard ever since you took over from your revered father. Both of you [father and daughter] have fought for social justice in Nigeria for which I commend you.
To say that you brought out almost all the fault lines of the last administration is understatement; how clueless the then president was if not still is in your estimation. One cannot also forget how you vouched for this administration from inception and sang its praise for several months now one Mr Maina has been in the news.
As enlightened columnist must have known de story even more than me. One would like to hear your views. You are being mute about Mainagate since it brokeout is not inspiring for those of us who take interest in your column. For your information I am a retiree of The Nigeria Police whose money was part of the money embezzled. Regards".
I responded to the reader but I also believe that this case should follow the due process. If anyone is in doubt of anything less, it is imperative that interested bodies and the civil society should continue to highlight this miscarriages of justice, until justice is truly served and people that affected get some closure and restitution.
They say, the evil that men do, live long after them and Maina's  alleged crimes has left thousands of victims out of pocket and denied them of their hard earned  pension fund. So roll on 2017, the same former head of Presidential Task Force on Pension Reforms, who had been on self-imposed exile, while he was declared wanted by the Economic and Financial Crimes Commission, EFCC and the Interpol for an alleged N100bn pension scam, appointed to a post only to be given his marching orders by the President on Monday when it became common knowledge that he had returned to the country and resumed work at the ministry as a director.
Only in Nigeria! Someone somewhere must have taken Nigerians for mugs or how else was he absolved of his former crime without following the due process or the government recouping the stolen funds and where were authorities when this supposedly fugitive was able come and go, then given a top job in spite of his questionable past?
It is unfathomable that Maina remains free and has not faced the consequences after all these years. I understand that justice could be slow but this is cannot be explained away.
This alleged scam was uncovered in 2013 to a tune of $2.1 billion and still Maina remains a source of discussion and frustration up on till now. So what gives? How can a wanted man be rumoured to be handed a ministerial position, this is like getting a cat to guard meat.
And his family are banging the drum so loudly and they absolve him of any wrong doing, isn't that surprising!
Of course, they are convinced he did his old job so well that the government have invited him to head a service. Really, what alternative universe do they live on?
The facts are that: Abdul Rasheed Maina is wanted for corruption that happened on his watch as the chairman of the former chairman of the presidential task force on pension reform, he is complicit and he failed to appear at the behest of the Senate to answer to question of the missing funds. With warrant for his arrest, the police fail to arrest him.
This man is like Houdini, an escapologist, leaving the country by the back door and returning when the dust settles.
In Nigeria, we jail the petty thief and the poli-looters, well, it seems they get promoted and given license to siphon some more.
'It's being here now that's important. There's no past and there's no future. Time is a very misleading thing. All there is ever, is the now. We can gain experience from the past, but we can't relive it; and we can hope for the future, but we don't know if there is one'.-George Harrison
Bloody NEPA
My 77- year old mother and I were having a texting conversation. The connection was not that good and at one point, the line was disconnected. So I called back and my mother texted me back:
My Mum: I don't know what is wrong with it.  Very busy in the laundry, am seizing the opportunity of the bloody N. E. P. A., to wash clothes.
Me: Mummy, you are so funny
My Mum: Why did you say your mummy is so funny.  It is true now because if they don't bring back power then we are going to put the gen on. Your Dad spends 50k on petrol monthly.
See, the trouble with Nigeria? We have some people who have not experienced uninterrupted power supply and those who have, it has been so long, and it seems like a distant memory.
It is a disgrace and that the lack of regular  power supply means people have developed ways of forward planning; preparing and planning their day or days, not buying perishable foodstuff because the fridge may not work for days on end. Many years ago, my sister visited me in the UK, and I found her ironing so many clothes well into the night. I kept on watching her because, I could not understand why she had to do all this ironing.
So I had mentioned the elephant in the room. I said, Sis, why are you doing so much ironing at this time of the night? My Sister answered in a matter of fact, I have to do all my ironing because…NEPA may go off…immediately she said NEPA, she realised that she is no longer in Nigeria and it is no longer an issue. My sister told me never to recount the story because she will totally deny it!
Nigeria deserves better and Nigerians deserve better.