By Esther Onyegbula
Police operatives in Amukoko area of Lagos State have reportedly arrested four suspected hoodlums over the death of a middle-aged man.
It was learned that two warring factions, Apasa and Safejo in Abulekere community in Ifelodun area, went on rampage recently, attacking residents and looting shops in the area.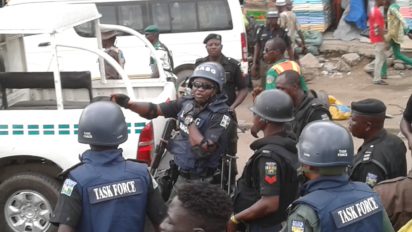 Vanguard gathered that one of the victims, a middle-aged man, who was attacked with a broken bottle and cutlass during the attack at Iyatuwo Street, died two days later in the hospital where he was receiving treatment.
Obviously irked by the death of one of their own, hoodlums from Apasa launched a reprisal attack, which was immediately quelled by Police officers from Amukoko Division, who arrested the suspects.
Reacting to the arrest of suspects, the Baale of Abulekere Mofesajo Community, Chief Oladipupo Idris Ojora, said they are working closely with the Police to rid the community of bad eggs, who are bent on wreaking havoc in the community.
A trader, whose shop was looted during the incident, Mr. Abuchi, said every festive period the hoodlums attack each other to cause chaos that will enable them attack people and loot.