By Oluwaseyi Adeshina
AFTER  losing one of his limbs to an unfortunate reckless driver right in his office premises, 25-year-old Mr. Nnamani Okechukwu is in dire need of  N2.5 million for artificial limbs to enable him move around and fend for himself.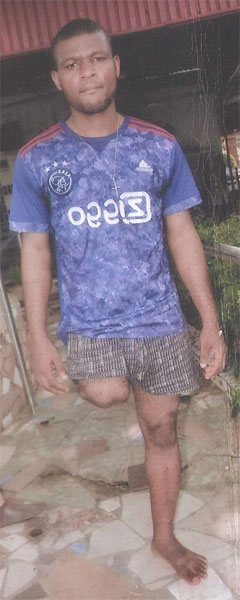 Okechukwu, an orphan, is currently helpless. Formerly a  gateman, Okechukwu was  on duty  when an altercation with one of the regular customers occurred.
Unfortunately for Okechukwu, he had another encounter with the same customer while exiting the hotel at about 2:00 am the next day.
The customer's vehicle  brushed him aside, crushing his leg in the process. Okechukwu was  rescued by the hotel workers who later rushed him to Fate City Hospital,  Ajao Estate for First Aid and referred him to National Orthopaedic Hospital Igbobi, Lagos at 4:00am. He was taken to the theatre where his veins were reconstructed but the nerves were totally damaged. After one week of monitoring, there was no improvement and the leg was amputated.
He stated that the doctor gave him two prescriptions of artificial limbs of N1.9 million and N2.5 million.
Okechukwu alleged that since the incident, the man who caused his predicament has refused to assist him.
"I am appealing to the state government, corporate organisations and well meaning Nigerians to help me acheive my dream.  I want to go back to school.  I am an orphan and my uncle and relatives have refused to help me."
If you are touched, please send you rdonation to Mr. Nnamani Okechukwu Charles, Zenith Bank 2080837895,  or  Nnamami Okechukwu Charles, FCMB: 4786921017 or call 08037274540.