… wanes in Guinness
By Emeka Anaeto,  Business Editor
THIS report, last week, indicated a positive run of confidence in the stocks of Guinness Nigeria Plc as against the lull in the key competitor, Nigerian Breweries (NB), apparently as a result of seeming better performance and prospects in the Guinness' financials.
But the investors appear to be switching sentiment now as the marginal gains in Guinness was reversed last week despite the bullish run in the Nigerian Stock Exchange.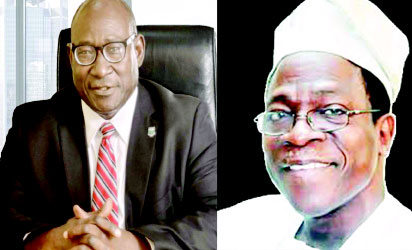 Conversely, sentiments improved for NB though the stock remains significantly in the negative.
While Guinness closed November last weekend in the negative of -2.5 per cent month loss, NB reduced its losses in the month to -11.8 percent from previous week's record of -13.3 percent.
The two beverage giants in Nigeria are amongst the leading multinationals in the Nigerian Stock Exchange, but their stocks and, recently, their financial performance are no longer in leading positions.
Consequently, the short-to-medium term outlook for equity investments in the companies appear hazy going by current analysts' permutations.
Last week we presented the details of the lack-luster interim results of NB along with analysts' permutations which were adverse. In this concluding part of this report we present the Guinness'.
Beside the last week's negative sentiment on Guinness stock, investment analysts have also expressed discomfort with the financials.
Already they have reversed performance metrics for the brewing and beverage giant especially in earnings and profitability in the near-to-medium terms while stock price targets have also been downgraded.
Stock investor sentiments 
For Guinness the investor sentiment has been favourable as against its unfavourable results including the 2017/18 first quarter results announced in the last week of October. Guinness' financial year starts July.
Though return on equity investment in Guinness was still positive and better than NB, the Year-to-Date, YtD, has began to go down, touching 17 per cent at close of business last week, down from 22.8 percent previous week.
The stock had declined marginally by 1% upon the announcement of the result considered to have fallen behind consensus estimates, following elevated costs.
The stock further went down post-results by -3.5 percent last weekend.
The overall picture of the two beverage giants is that of uncertainty in stock pricing with analysts revising almost all estimates downward at the backdrop of negative surprises in their most recent financial statements.
The Guinness financials   
Guinness reported a 29.9 percent rise in turnover to N29.9 billion ahead of analysts' average estimate of  N28.1 billion, but after tax earnings for the quarter came in at  N41 million from a loss after tax of  N2.2 billion in Q1'16/17, underperforming analysts' estimate of  N500 million by a huge -91.7% deviation.
Though the company's management had attributed the rise in turnover to sustained growth in its spirits business, analysts at CardinalStone Partners Limited, a Lagos based investment house, said they believe higher product pricing played a role in the double digit turnover growth.
Analysis of the result also shows that cost of sales, which added 33 percent Year-on-Year (YoY), rose at a much faster pace than revenue and as a result, gross margin contracted by 153 basis points (bps) to 34.7 percent.
But despite the contraction in gross margin, operating margin expanded by 588bps YoY to 8.9 percent, driven by a 728bps YoY moderation in operating expenses-to-sales ratio, apparently, as a the result of a 16.6 percent YoY decline in administrative expenses.
Significant to the overall cost pressure was the net finance cost which rose by 10 percent YoY, following a 38.2 per cent YoY increase in interest expense to  N1.6 billion as well as a modest 1.2 percent YoY increase in foreign exchange losses to  N2.2 billion. Though interest income rose by 163 percent YoY to  N1.2 billion, it wasn't strong enough to offset the increase in finance cost.
Analysts' verdict on Guinness
In its recent analysis of Guinness' profile, analysts at Cordros Capital Limited, another Lagos based investment house, expressed serious discomfort with the company's stock. Consequently, they effected a rating downgrade on downward revision to their estimates.
They stated: "Despite higher YoY EBITDA (Earnings Before Interest, Tax, Depreciation and Amortisation) and net profit in Q1-18, we revise 2018 forecasts for Guinness lower by 15 percent and 26 percent respectively, on negative surprises on gross margin and finance cost lines, which more than offset better-than-expected revenue. "The realized net profit in Q1 was below consensus by 97%. Estimates for 2019-2020 were also revised lower by 3% and 5% average. On net, we cut our TP (target price) for the stock by 16% to NGN76.70/share and downgrade rating to 'SELL'.
"We cut gross margin estimate for 2018 by 405 bps to 39% and by 200 bps average to 41%, for 2019-2020. Compared to Q4-17, Guinness' Q1-18 gross margin was lower by 1,000 bps, and the margin has declined consistently since the surprise surge to record 55% in Q3-17. The gains from stable FX, efficiency measures (via productivity saving programs and ZBB), and product mix strategy, aimed to mitigate margin headwinds, are being offset by consumers growing preference for value beer (estimated to currently represent more than 50% of market volume).
"In addition, key raw material input prices (Sorghum in this case) were higher month-on-month in key markets in July and August, although September data show some moderation. "Our forecast for finance cost was increased by 68% to NGN5.9 billion, following the sharp spike (249% quarter-on-quarter, QoQ) at the beginning of the year.
"Although proceeds from the recently concluded Rights Issue have been applied to significantly reduce borrowings (-67% QoQ), it is unlikely that Guinness will be completely unlevered going forward.
"However, we retained our lower finance cost forecasts for 2019-2020, reflecting the significantly de-leveraged balance sheet and the reduced FX headwinds from repaying large portion of foreign currency loans (-61% QoQ).
"We raise revenue growth estimate to 20% (previously 5%), after realized Q1 sales came ahead of our estimate by 20%.
"Whilst noting the continued subdued beer consumer market, with competition remaining intense, we would also mention tailwinds from the increasing visibility of Guinness' newly launched mainstream spirits and premium scotch, amidst continued strong growth of the value beer segment – driven by Satzenbrau and Dubic.
"Net impact of the above changes is for EBITDA and net profit growth of 23% (previously 45%) and 260% (previously 384%) respectively in 2018F, and 2019- 2023 CAGR (Compound Annual Growth Rate)  of 8% and 8.6% respectively."