•Released on bail last night
•Senate wades in as Ohanaeze youths, IPOB, Igbo groups condemn arrest
•Say it's meant to scuttle industrialisation of Igboland
•Workers protest intimidation, harassment of their chairman
By Clifford Ndujihe, Sunday Nwafor, Ugochukwu Alaribe, Dennis Agbo, Chimaobi Nwaiwu & Chinonso Alozie
ENUGU— ON a day waves of condemnation trailed his arrest, the Economic and Financial Crimes Commission, EFCC, yesterday, flew Chairman of Innoson Group of Companies, Chief Innocent Chukwuma, to Lagos in shorts, according to one of his aides.
Chief Chukwuma, was however, released, last night. EFCC which confirmed the release said the Innoson boss was arrested for alleged tax fraud and forgery.
The agency flew him to Lagos wearing only shorts and a shirt through Air Peace flight that left Akanu Ibiam International Airport, Enugu, at 1:45pm.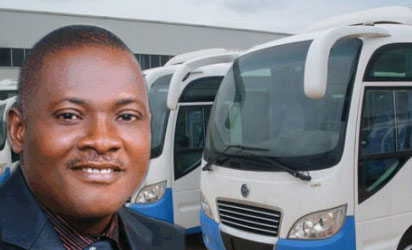 Chukwuma was driven in a convoy from the EFCC Enugu office where he was detained after his forcible arrest at his Enugu residence, Tuesday.
A staff of Innoson Company said the businessman was neither allowed to take his bath nor change his wears since he was arrested by the EFCC on Tuesday morning.
Head, Corporate Communications of Innoson Group, Cornel Osigwe, in a statement in Enugu, yesterday, maintained that Chukwuma is not a criminal and was never invited by the EFCC before the arrest.
Osigwe denied that Chukwuma was being investigated by the Capital Market and Insurance Fraud Unit of the commission's Lagos office and challenged the EFCC to prove its invitation to Chukwuma which he failed to honour that necessitated invasion of his residence.
He also said Chukwuma never jumped any administrative bail or made attempts at resisting arrest as claimed by the EFCC, adding that "Dr Chukwuma (OFR) is a law abiding citizen, a public figure and a well known industrialist of international repute. He couldn't have been invited by the EFCC and he would ignore or refuse to honour the invitation."
Osigwe further said: "Dr Chukwuma has never had any issues or query from the EFCC recently.
How the issue started — Innoson group
The last issue he had with EFCC was an invitation extended to him in 2012 based on a complaint against him by Guaranty Trust Bank, GTB, which he duly honoured.
"Upon completion of investigations, EFCC requested him through a letter to pay some money to GTB, saying the money was what Innoson owed GTB after it, EFCC, deducted excess charge of about N560 million, which GTB illegally and unlawfully took from their account.
''Innoson rejected the demand, maintaining that it was GTB that was owing him and that GTB is to pay interest on the excess and unlawful charges.
''This resulted in a stalemate between Innoson and EFCC. Consequently, Innoson commenced a lawsuit against GTB at Federal High Court in suit No: FHC/AWK/139/2012 at Federal High Court Awka division and, thereafter, got a judgement in its favour in the sum of N4.7 billion against GTB.
"As a consequence of the above, EFCC filed a charge against him at Lagos High Court. The charge was subsequently struck out after EFCC filed a notice of discontinuance.
''However, Dr Innocent Chukwuma and Innoson Nigeria Ltd appealed against the order striking out the case on the basis that it ought to be dismissed and not struck out.
''The appeal, no: CA/I/1330Cm/2017, till date, is still pending at the Court of Appeal, Lagos State. Since then, EFCC has never invited Dr Chukwuma again.
Challenge to EFCC
"We challenge EFCC to show proof and evidence of EFCC invitation extended to Dr Chukwuma, the various dates of the invitation and the letter of invitation extended to him.
''We further challenge EFCC to also show proof of how and when Dr Chukwuma jumped an administrative bail granted to him.
"EFCC also claimed that Dr Chukwuma is being investigated by the Capital Market and Insurance Fraud Unit of the commission's Lagos office. We equally challenge EFCC to show proof of this investigation.
''On whose petition is this investigation being carried out and proof of any letter on this investigation ever written to Innoson from this unit, stating also the month and year.
"The commission's being economical with the truth by stating that Dr Chukwuma mobilised six truckloads of thugs pretending to be staff of his company to his residence, where they manhandled EFCC operatives.
''The truth available at our disposal is that some factory workers on hearing that their boss was being arrested, mobilised themselves to his residence to protest what they said was an illegal arrest.
"However, the EFCC operatives together with the Police team, fired tear gas and dispersed them. We have pictures to back up our claim. At no point did these factory workers manhandle the armed EFCC and Police officials at his residence. This is pure falsehood aimed at tarnishing the reputation of Dr Innocent Chukwuma.
"EFCC as a law-abiding organisation and a strong advocate of rule of law as constantly shown and practised by its Head, led by Ibrahim Magu, should allow the court processes to reach their logical conclusion.
''Dr Chukwuma's case against GTB is already at the Supreme Court. We have absolute faith in the Nigeria judiciary. They should be allowed to adjudicate over this matter without undue interference from any quarters, he said."
Why we arrested him  — EFCC
We've released him, we arrested him for fraud, forgery – EFCC
Meanwhile, the EFCC, yesterday night, said it had released Chukwuma on bail. EFCC, in a statement by its Head of Media and Publicity, Mr. Wilson Uwujaren, said it arrested the business man over matters bordering on N1.478 billion fraud and forgery.
The statement read in part: ''The business man who runs a local auto assembly plant was arrested on Tuesday December 19, 2017 at his Enugu residence, following his refusal to respond to invitations by the Commission, after initially being granted administrative bail by the Commission, while his surety could also not be found.
"Unfortunately the industrialist resisted arrest and stirred controversy by bringing six truck-loads of thugs to block the entrance to his Plot W1, Industrial Layout, Abakaliki Road, Emeni, Enugu, home.
This was after he initially misled the Police Command by informing them that his home had been invaded by armed robbers and kidnappers despite the fact that operatives of the Commission duly identified themselves to policemen guarding his home.
His unruly thugs encircled and manhandled operatives of the Commission who had gone to effect the arrest.
Consequently, a distress call was sent to the Commission's Enugu Office for reinforcement.
In all of this, the Commission's operatives acted with decorum and civility. No one was manhandled or assaulted by the EFCC team, and not a single shot was fired, despite the provocation.
Chief Chukwuma and his brother, Charles Chukwuma (who is still at large), are being investigated by the Insurance and Capital Market Fraud Section of the Commission's office in Lagos over matters bordering on N1,478,366, 859.66 fraud and forgery.
The industrialist, among other infractions, allegedly used forged documents to secure tax waivers.''
Senators, Igbo groups react
Dr Chukwuma's arrest drew criticisms from senators and a host of Igbo groups, yesterday.
Igbo groups that condemned Chief Chukwuma's arrest included the Indigenous People of Biafra, IPOB; Igbo Youth Movement, IYM; Eastern Consultative Assembly, ECA; Igbo Leaders of Thought, ILT; Ohanaeze Youth Council, OYC; and Igbo National Council, INC.
Indeed, Evangelist Elliot Ugochukwu-Uko, who is IYM founder, ECA secretary and ILT deputy secretary, described the arrest of the Innoson CEO as ''endless humiliation of a conquered people'' noting that the commando style of the arrest was ''causing ripples all over Igboland.''
He said: ''The alleged legal issues he has with a commercial bank is also said to be in court. The power-show displayed on Tuesday in Enugu by EFCC's Ibrahim Magu is a loud statement to the Igbo Nation that we are perceived as slaves in Nigeria.
The total disregard for the ongoing court actions and a resort to military era abductions confirm to all, that Ndigbo remain endangered species in Nigeria.
"To arrest the greatest employer of labour in Igboland and a genius who has transformed the economic landscape of this clime, in the area of automobile manufacturing, in a humiliating manner at his residence in Enugu, ostensibly over issues with a bank, issues which lawyers are handling. This is a loud message to the people of Eastern Nigeria of our status in Nigeria.''
IPOB
Also, the IPOB, in a statement by its Media and Publicity Secretary, Comrade Emma Powerful, condemned what it described as ''ongoing harassment of notable Biafran businesmen especially those of Igbo extraction by the Nigerian Government and her security agencies.''
It said not contented with ''the economic emasculation of the Biafran territories through decades of punitive policies, the few successful businessmen that made it against all odds like Chief Innocent Chukwuma, the owner of Innoson Motors is now being harassed and humiliated publicly by government agencies for three major reasons: the impotency of political leadership in the East, coupled with intellectual myopia of the governing class and ongoing policy of de-industrialisation of the East.
"Had Innoson sited his factory in Lagos or Kaduna, every possible line of credit would have been extended to him; and there would be politics of appeasement and sabotage of collective interest by Ohanaeze Ndigbo, PANDEF and similar interest groups.'
''Since the emergence of this Buhari regime, Biafrans of Igbo extraction have been lurching from one persecution to another. After Operation Python Dance which had the backing of Ohanaeze Ndigbo leadership and South East governors, the Buhari regime has turned it's attention to the destruction of economic interests in the South East starting with Innoson Motors, in the hope of frustrating the first indigenous automobile company in West Africa because he opened his factory in Igboland,'' it added.
Ohanaeze youths demand Chukwuma's release
In its reaction, the Ohanaeze Youth Council, in a statement by Comrade Obinna Achionye and Mazi Okwu Nnabuike, Vice President and Secretary, demanded the immediate release of the business mogul and described his arrest as the height of impunity against the Igbo nation and another move to cripple the economic fortunes of Ndigbo.
The youths stated that they were worried over the clampdown on Chukwuma without proper invitation by the anti-corruption agency, warning that there will be massive protests by Igbo and other ethnic nationalities' youth groups in Enugu, Abuja and Lagos, if the businessman was not released without further delay.
Workers protest
Meantime, hundreds of workers of Innoson Vehicle Manufacturing Company in Nnewi, protested the arrest and detention of their chairman by the EFCC.
The workers, who blocked the Uru Umudim Nnewi, Innoson Industrial Layout Nnewi, chanted anti-intimidation and harassment songs.
"Addressing newsmen, leader of the protesting Innoson workers, Mr. Okwudili Igwemma said: "Most industrialists and their businesses have gone down because of what they have gone through in the hand of some banks, most of them did not get back what they used as collaterals, like lands and buildings, to borrow money from banks, even when they had repaid the bank loans, this is not good for the image of Nigerian banks."
He recalled that "Chief Chukwuma, last week, unveiled four brand new sets of vehicles, namely IVM G80, IVM G40, IVM 20 and IVM Granite, and while delivering his address, said the only way a manufacturing company like his can succeed in what it is doing to uplift the image of Nigeria is by government, corporate institution and the public, patronizing and supporting it.''
Senate wades in,  sets up committee
The Senate, yesterday, resolved to wade into Chukwuma's arrest by the EFCC, following a point of order raised by the Deputy Senate President, Ike Ekweremadu.
"Yesterday, I got a number of messages indicating that Mr Innocent Chukwuma was arrested by the EFCC over a transaction between him and GTB," Mr. Ekweremadu said: "This morning (yesterday morning) I made an effort and I spoke with him, his story is straight forward. He said he was at his house at 5:00 am, Tuesday morning, when he heard gun shots and he thought they were assassins and so he went into hiding after about two hours he saw some police and he thought that help had come.
"So, he came out of his hiding and ran to the police man who promptly arrested him. As he was trying to find out what was his offence, they told him when they get to the police station they will inform him of the offence. As at today, nobody has told him what the offence is.
"Any person who is arrested and detained should be informed the reason for his arrest. As I speak, Mr Innoson Chukwuma is yet to be informed of what led to his arrest or detention but if you go through the media today, the story is that he is owing GTB. As a lawyer, I'm at a loss how a transaction between someone and his bank will inform the EFCC's arrest.
What Innoson boss told me  — Ekweremadu
"The story he told me is that he is not owing the bank anything, he borrowed money from the bank which he has since repaid but the bank kept charging money and withdrawing it from his account. They set up an audit and the auditor came to a conclusion that they had deducted more than N500 million, he was insisting on 22 per cent, the bank said they will pay 7 per cent.
"So, that was where they had the disagreement and they now went to court and it gave judgement in their favour at the federal high court and the Court of Appeal and the matter is at the Supreme Court. The fact that the matter is in court and it was a commercial transaction gives no room for the intervention of EFCC. I'd like to appeal to this Senate to ensure that Mr Innocent Chukuwma is released promptly."
In his contribution, Sam Anyanwu, Imo-PDP, questioned the Senate's silence over alleged continued impunity of the EFCC.
"I want to ask a question. EFCC as it stands today, does it have a chairman? Because I knew in this chamber, the head of EFCC was rejected during screening because of poor performance and yet he has been there as chairman.
"There was a businessman from Imo State that was killed in EFCC custody. The body is still in the mortuary till today. These are the kind of things we are seeing in this country, why must we allow it to continue?
"We have been talking about promoting made-in-Nigeria goods. This man manufactures vehicles, he has over 5, 000 people in his employment, he has international partners. What are you projecting before them? That he is a criminal? If we as Senate allows this to continue, there is nothing else that will ever work.
"We rejected somebody here, yet he is allowed. Are there no other Nigerians who are credible to fight corruption?"
How EFCC official slapped Chukwuma's wife — Abaribe
Senator Enyinnaya Abaribe, Abia-PDP, threw the Senate into a rowdy session when he announced that operatives of EFCC slapped the wife of Mr. Chukwuma.
"Another incident happened in his house. The wife asked a question; why are you arresting my husband? What has happened and they slapped her."
Bwacha Emmanuel, Taraba-PDP, said the perpetrator of such act should be fished out and punished.
"As a member of this Senate, I sponsored a motion to call for support for the anti-corruption war but as I listen to this story, if truly the wife of Innocent Chukwuma was slapped by a member of EFCC, something has to be done. Somebody must be held responsible, somebody must lose his job. Otherwise, we'll be wasting our time here."
The Senate President, Bukola Saraki, noted that the EFCC will drag the country into ridicule if the issue is not addressed promptly.
"As a society, we are all planning that our country be civilised, I think this does not speak well of the country. How a private commercial transaction has now become the focus of the EFCC. I think this area is the focus. Whether he is owing or not, I think we must be seen protecting the fundamental rights of citizens. I've never seen where FBI interfered between City Bank and Ford Motors, or the financial crime agency in UK intervenes. We are just making a mockery of ourselves and we really should be able to do the right thing."
The Senate resolved to intervene in the arrest of Mr. Chukwuma, while mandating its committee on anti-corruption and financial crimes to investigate the matter and report back in 24 hours.