By Rotimi Agbani
The ghost of Nana Olomu, the fourth Governor of Benin River, who signed a treaty on behalf of the Itsekiri, granting the British further rights in Itsekiriland is bound to be re-invoked on stage as the Olu of Warri, His Majesty, Ogiame Atuwatse II, celebrates his 2nd year anniversary on the throne.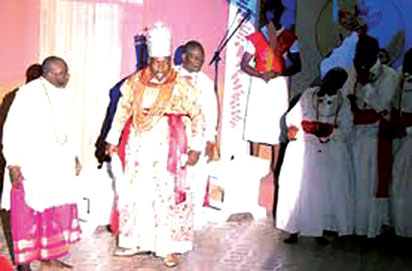 Produced by popular film maker, Alex Eyengho, "Nana Olomu" is a historical play which recounts the story of how the British Consul for the Bights of Benin and Biafra, John Beecroft, established the post of Governor of Benin River and gave it to an Itsekiri chief, Idiare and how the ensuing scramble forced the British lords to deport Nana Olomu to Gold Coast.
Featuring the lies of Norbert Young, Efe Mayford, Raphael-Niyi Stevens, Matel Alex-Eyengho. Others are Bongolipso, Toju, Stephen, Haji B, Solbifaa among others, the play will be staged on December 16, at the Palace of the Olu of Warri. It is part of activities marking the 2nd anniversary of the Warri monarch, and the event will graced by the high and mighty in Itsekiri nation.
Last year, Eyengho staged "Olu Akengbuwa" a play about the intriguing incidents that created a lacuna in the historical trajectory of the Warri Monarchical system, when for 88 years the Kingdom had no King.