BY NDAHI MARAMA, DAMATURU
Governor Ibrahim Gaidam of Yobe State has presented the sum of N92,182,336,000 as appropriation bill for the 2018 fiscal year.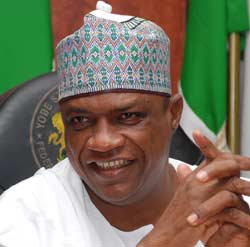 The budget revealed an increase of 10.4% over last year's budget of N82.6 billion.
The Budget which Gaidam presented on the floor of the State House of Assembly on Tuesday tagged "Budget of Consolidation and Socio- Economic Rejuvenation" is aimed at meeting the yearnings and aspirations of the people and concretize Government's numerous efforts of uplifting the standard and condition of living of all citizens of the State.
Gaidam while addressing the Speaker of the State House of Assembly, Hon. Adamu Dala Dogo and other Lawmakers said, with the vision and mission enunciated in Yobe State Socio-Economic Reform Agenda, (YOSERA) in the 2018 Budget estimates, his administration proposed to spend the sum of N92,182,336,000 which is expected to be generated from the Treasury Opening Balance, Internally Generated Revenue, Statutory Allocation, Value Added Tax (VAT), Ecological Fund, Excess Crude Oil/Exchange Rate Differential among others.
The Governor noted that in order to achieve varied and far-reaching goals, government intend to spend the sum of N47,447,905,000 or 51.5% to cater for recurrent expenditure and the sum of N44,734,431,000 or 48.5% to cover capital expenditure.
Giving the highlights of the Budget he said, "From holistic perspective, the 2018 Budget will enable us to complete all the on-going legacy projects that our administration is bequeathing to our good people and take on new ones, in line with our overall developmental agenda.
"Therefore, the Ministry of Works, Transport and Energy takes the lion share of N17.53 billion to enable government complete the ongoing Damaturu Cargo International Airport and other roads and infrastructural projects across the 17 Local Government Areas of the state.
"We have also allocated the sum of N7.85 billion to the Education sector, followed by Health sector which will receive about N6.6 billion among other sectors.
"The objective of the 2018 budget is to revatalize the education system with the promotion of Agricultural activities to fight poverty and unemployment.
" This will be done through discipline, probity, transparency, and accountability which are some of the essential hallmarks of good governance". Gaidam stated.
He however stressed that the greatest challenge before the state now is that of post-insurgency Resettlement, Rehabilitation, Reconstruction, and Peace Building, assuring that with support from President Muhammadu Buhari, Security Agencies, Development partners and the citizenry, his doors will remain open to ensure good governance and development for the betterment of his people and communities.
Responding on behalf of the Lawmakers, the Speaker, Hon. Dogo thanked the governor for his prudence and accountability in governance, and promised that the budget will be soon be scrutinized to ensure its speedy passage into Law. End