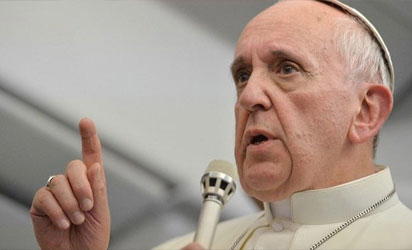 Pope Francis
The late U.S. Cardinal Bernard Law will have a funeral in St Peter's Basilica, the Vatican said Wednesday, as it released a message of condolence for the controversial prelate from Pope Francis.
"I raise prayers for the repose of his soul, that the Lord, God who is rich in mercy, may welcome him in His eternal peace, and I send my apostolic blessing to those who share in mourning the passing of the cardinal," Francis said.
There was no mention in the papal message about the paedophile priests cover-up scandal which tarnished Law's reputation.
The cardinal's funeral is scheduled for Thursday at 3.30 p.m. (1430 GMT) and will be officiated by the dean of the college of cardinals, Angelo Sodano.
The Vatican said after Mass, Francis will lead last rites for Law.
Born in 1931 in Mexico, the former archbishop of Boston stepped down from that post in 2002 after newspapers revealed a cover-up on a massive scale of abusing priests in Law's diocese.
At the time, 58 Boston priests demanded in a letter that he resign.
Under Law's leadership and before, the Boston archdiocese systematically moved priests who had admitted to or were suspected of predatory sex assaults on children to new postings, often just one step ahead of complaints from angry parents.
The new churches, some of them as far west as California, were not informed of the abuse records.
Law features in the Oscar-winning film "Spotlight" which portrays a team of investigative journalists from the Boston Globe newspaper who uncover the scandal.
The Boston scandal spread to other dioceses across the U.S., including Chicago, New York, Philadelphia, San Francisco and St Louis.
After standing down, Law withdrew to Rome, where in 2005 he officiated at the Requiem Mass for the late pope, now Saint, John Paul II.