Last week shock waves washed over the FESTAC community in the Amuwo Odofin Local Government Area of Lagos. FESTAC is notable for more than one reason. A very diverse community – even for the Lagos metropolis – it was the only Local Government in Lagos, if not the entire country , that held a yearly economic summit under the dynamic chairmanship of a youthful Ayodele Adewale.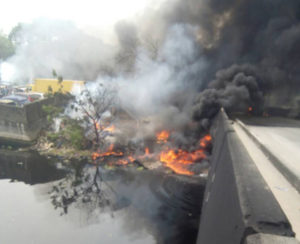 The result, not surprisingly, is a space a lot more organized than other communities around it- one which is influential and progressive.   Few communities in the entire Lagos metropolis can boast the functionality of the FESTAC area with night clubs , sports clubs , world class spas, 4 star hotels, six lane roads and functioning street lights; public gardens, a mall and fresh food produce. It is easy to live in Amuwo Odofin and not have to go anywhere else.
But FESTAC's significance goes way beyond mere lifestyle pretensions.   It is a space steeped in history and not just any history but the most glorious of our nation's history. FESTAC was built in an era when oil boom money washed over Nigeria and everything gleamed from underneath it. Festac '77, the   Second World Black and African Festival of Arts and Culture, was an international festival held in  Lagos from 15th   January to 12th February 1977,   celebrating African culture and showcasing to the world African  music,  fine art,  literature, drama,  dance and  religion. About 16,000 participants, representing 56 African nations and countries of the  African Diaspora, performed at the event. Artists who performed at the festival included  Stevie Wonder  from  United States,  Gilberto Gil  from  Brazil,  Bembeya Jazz National  from  Guinea,  Mighty Sparrow  from  Grenada,  Les Ballets Africains, South African  Miriam Makeba, and  Franco Luambo Makiadi.   It was the largest pan-African gathering   ever to take place.
A housing estate known as Festac Village was constructed as accommodation for about 17,000 participants.   In total 5,088 dwelling units were built prior to the festival and an additional 5,687   by the end of 1977. The village, it was hoped by the federal government, would relieve pressure on the Lagos housing situation, which was becoming dire even then.
Though modern clerics have referred to FESTAC '77 as a pagan ritual during which strange gods were invoked upon our land and unleashed to curse forever , those houses   are even now more relevant than ever. In a more serious country, the FESTAC area would be a Mecca of sorts; a perpetual wonder which is wonderful for no other reason than that it exists at all. Lagos state would take in millions of dollars every year, even though it is a federal government entity. Tourists would fall over themselves to come and experience the feel. They will drink coconut water and palm wine and pepper soup.
The culturally aware would gather there at every opportunity. Instead of Freedom Park, FESTAC would be the place singers and performers would go for inspiration and practice; and to get spotted. It would, in that alternate world, be the hub of all things cultural.
In the real world it is the place where a trailer burst into flames last week. On one of the busiest streets in Amuwo Odofin LGA, open carnage occurred in broad daylight from the fire that sucked in everything in its path except – thankfully – people. A few yards from a major shopping mall, a major hotel complex and upscale housing cluster, there had been no water in the middle of the dry season. It is unimaginable if the fire were to be in that high rise complex.
The scale of the destruction has the gravity to   send some to an early grave, no doubt . In a situation where insurance is anything but sure and government apathy is prevalent , victims have nowhere and no one to turn to , for the most part.
We complain about the Western media perpetrating less than flattering myths about us, yet there is precious little else to sing about. Interestingly the FESTAC fire coincided with the memorial, in London's St Paul's cathedral, held in honour of those who had died in the Grenfell   Tower fire with a death toll of hundreds, in June of this year . While government had been severely criticized for allowing the disaster to occur in the first instance in that part of the world, members of the British ruling class as well as top government functionaries showed up with sobriety to the very sad event.   Call them politically correct and you will not be far from the truth, but it is to the credit of the people, not the politicians, that the latter felt compelled to put up a show, even in cases where they don't really care.
It is to the credit of Amuwo Odofin's people that they arose in their dozens and helped out during the fire last week. It has not brought Mr. President on the scene, but it has secured a commitment from government to rebuild infrastructure and minimize environmental impact.
Politicians cannot prevent every disaster, but when they show up physically and show solidarity, the faith is solidified in our respect for life and our common humanity.
We really need to focus more on the values that cement our common humanity if we are to preserve ourselves as a