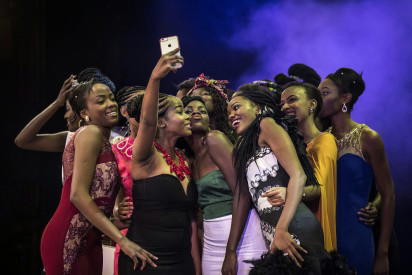 Contestants in the Miss Africa Pageant take a group selfie at the end of the pageant on April 30, 2016 in Johannesburg, South Africa. Barefoot, wearing traditional costumes including animal hide skirts and elaborately beaded headdresses, the contestants strutted the stage before Ghanaian Rebecca Asamoah was crowned the first Miss Africa Continent. / AFP PHOTO / JOHN WESSELS
The Concerned Youth Forum of Amuwo Odofin   in conjunction with the Amuwo Odofin Local Government, is excited  to hold the second edition of the Face of Amuwo-Odofin beauty pageant. The grand finale of the pageant is scheduled to take place on Friday, December 15, 2017 at the Holy Family Event Centre, Festac Town.
The event which comprises of a talent hunt and beauty pageant is aimed at discovering talents and models who will be absorbed directly or indirectly into the entertainment industry. It also seeks to crown a beauty queen who will promote Amuwo Odofin. Ladies between the ages of 18 – 26 from within and around Amuwo Odofin Local Government who will compete for the title of "Face of Amuwo Odofin". The talent hunt is a side attraction to enable young people add value to the society with their talents, with the vision to develop people who will become stars worthy of emulation. It comprises comedy, singing, dancing and playing musical instruments.
Fifteen contestants chosen from the various auditions will compete for the crown and the star prize of of a UK tour trip. There will be cash prizes and consolations worth five hundred thousand naira for winners guaranteed with training and modeling contracts.