By Happy Ekeyede
Students across the country have been charged to focus more on their abilities and talents in order to take advantage of opportunities in their chosen career.
Speaking in Lagos at this year's edition of Beyond the School, an initiative of the Nigerian Breweries/Felix Ohiwerei Education Trust Fund, Emilia Asim-Ita, a Senior Consultant with Thistle Praxis Consulting, instructed  participants on how to make a success of their career choices.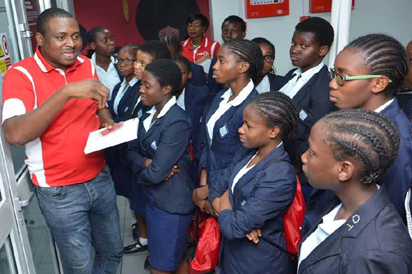 Asim-Ita who spoke on Personal Development and Career Facts, maintained that career choice should be hinged on passion, adding that students should read wide, cultivate mentors and ignore distractions.
While encouraging the students to dream big, she urged them to develop their passions and interests to guarantee a bright future.
She said: "The knowledge you now have will help you find disciplines that you are passionate about."
According to her,   students need to develop the skills needed to succeed in their various disciplines.
Meanwhile, Mrs. Nimi Akinkugbe, Managing Director of Bestman Games during her presentation exposed the students to personal finance tips on saving, investing and spending.
She urged the students to be diligent, prudent and keep good company.
On his part,   Mr. Gbubemi Fregene aka Chef Fregz, inspired the students with his success story. He implored them to get education so as to be on a higher pedestal in their career and passion paths.
He disclosed that as far back as his days in secondary school, he developed interest in cooking.
He said: "Life is about your passion, but education is important. The relationship is symbiotic because it is actually your education that will determine how far you go with your passion. Don't be upset that you don't have anything now, but focus on what you are going to do in your own circle," Gbubemi said, while urging the students to write their own story.
Earlier in his welcome address, Mr. Kufre Ekanem, Corporate Affairs Adviser, Nigerian Breweries Plc, explained that the initiative was introduced to complement other initiatives of the company targeted at the education sector.
According to him: "Beyond the School is designed for senior secondary school students in public schools to expose them to career options and factors they need to consider before making a career choice."
Ekanem equally called on the students to take advantage of the career guidance information they were provided which is in line with best practices, to achieve their full potential.
This year's edition drew students and teachers from Iponri Estate Senior High School; Stadium Senior High School; Onitolo Community Senior High School; Iganmu Senior Secondary High School and Adebola Baptist Senior High School, all in Lagos Education District Four.
The event also saw students from the schools compete in a game of Monopoly where they won various prizes.