This is a follow-up to my earlier post this morning on the arrest of Innocent Chukwuma, the owner of INNOSEN MOTORS, by the EFCC. I had alluded to the fact that in view of his contributions to the economy, such treatment meted to him by the EFCC by that show of force (ostensibly because he didn't honour it's invitation), to me, didn't add up, when a Maina is daring everyone and nothing has happened to him.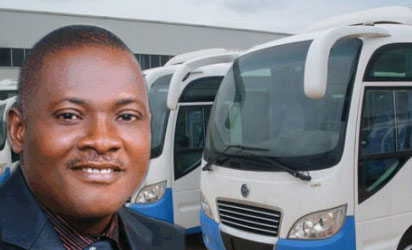 Some of my respected friends disagreed with me, stating that nobody is above the law, and that if Innocent is guilty, he should face the law. An example of South Korea's Samsung CEO who was sent to jail was cited.I have no problem with that position.
My point of divergence is that no two cases are the same. South Korea's economy and political configuration is different from Nigeria. It is easy for us on the social media to pontificate that laws must be applied, even if heaven falls. But it's a different ball game if you are at the driver's seat of decision making.
There are exceptions to all cases and that does not mean some people are above the law. There are alternative ways of dealing with certain individuals because of collateral damage certain actions may impact on the system. If EFCC were to arrest Dangote today, that may lead to the distress of some banks and invariably impact negatively on the economy.
General Abdulsalam Abubakar did say some years ago that in 1998, when political parties were being registered, that Alliance for Democracy (AD) did not meet INEC's requirements for registration but the government had to register it for political expediency and stability of the polity.
Why did the Abacha government contrive and arrange for a behind-the-scene bail for Abiola, without his knowledge and that of his counsel, (a bail which he eventually declined). We cannot pretend that there are certain decisions taken by governments in achieving a desired goal without using same standards and methods in order to avoid serious collateral damage. That is the thrust of my post.
If law must always take it course, why did the government negotiate with the avengers, who are criminals blowing up pipelines and whose activities negatively impact on our crude oil exports and earnings?
Why did this government say at a time that it was ready to negotiate with any authentic faction of Boko haram? Are the terrorists not criminals that should be brought to book? Why do we still fund amnesty programme since law must take it's course?
Governance is a very complex enterprise. Various variables come into play. What works in one country does not necessarily work in our clime.
Like we say in our street parlance, it's only why mosquito perches on a scrotum that one knows that not all matters are solved by violence.
That is the thrust of my earlier post. It is not a matter of all are equal before the law. It is a matter of applying wisdom to achieve the same result.