Say those calling for scrapping of SARS are armed criminals
By Joseph Erunke
ABUJA-THE Police high command has said contrary to the ongoing social media campaign calling on it to scrap its Special Anti-Robbery Squad unit, it has no such intention whatsoever.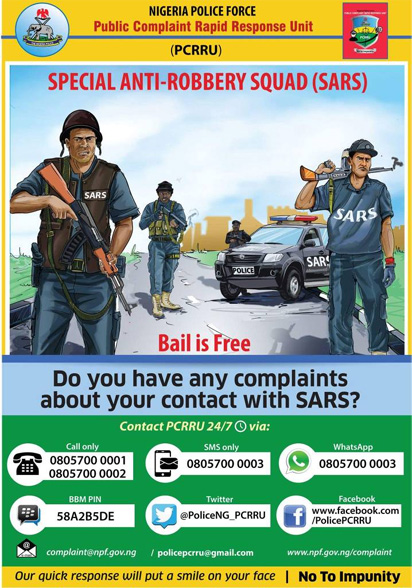 This was even as it said contrary to claims of wrongdoings against SARS by those it referred to as "criminals", the anti-robbery unit has done a lot in sanitising the country.
The police said those carrying out the campaign in the social media were armed robbers who have found the operations of the special unit so hot for their activities, and challenged them to come out for identification so that it can investigate them.
It also asked well meaning Nigerians to disregard what it described as so-called special media campaign against SARS, insisting that the campaigners were armed robbers who relocated to the social media it referred to as "comedians centre" to drum up support to achieve their aim.
Force Public Relations Officer,Jimoh Moshood, a Chief Superintendent of Police, CSP, told Vanguard on a telephone conversation that those carrying the campaign for scrapping of SARS were criminals who want to unit scrapped so that their activities can thrive, vowing that the criminals won't have their way.
He dared those with allegations of wrongdoing against SARS to show up with their evidence or shut up, insisting that the police would not bow to their antics to regain freedom in their nefarious trades.
Hear him: "Anybody calling for scrapping of SARS is an armed robber, let him come forward so that we can investigate him.
" Any complaints they give against any police personnel, everybody knows that we don't hide it.
"We have a Public Complaints Bureau which handles complaints. So if anybody is calling for scrapping of SARS, we don't need to be reminded that they are criminals just using the social media."
The Force Public Relations Officer added: "If there are robbers that are operating and Special Anti-Robbery Squad engage them and somebody would now put something in the social media and say they should scrap SARS, I think it's unfortunate.
" If there are specific allegations against any police officer whether SARS or no SARS, there's a control mechanism for any of us that violates the rights of Nigerian citizens to be dealt with appropriately.
"You have seen instances where police officers have been tried, found guilty and charged to court.
"Those mechanisms are there, so it would be mischievous for anybody to call for scrapping of SARS. You want armed robbers to take over everywhere?"
He spoke further:"So, those who are calling on the scrapping of SARS are people to be suspected, I think they are robbers themselves.
"If there are complaints of atrocities against any police officers, they are being dealt with appropriately, we don't hide them.
" You have been reading how police men that misbehave in their lines of duties are being dealt with. So anybody that is calling for scrapping of SARS has something to hide.
"The police authorities cannot and will not scrap the Special Anti-Robbery Squad, SARS for these criminals to thrive because it's not our problem.
"The people that have been fighting armed robbery, fighting kidnapping and make a lot of successes?
" Look at the number of people they have arrested along Abuja-Kaduna highway, look at the case of Evans. Don't you know that Intelligence Response Team has elements of Special Anti-Robbery Squad in them.
" I'm just trying to let you know the viability, so we shouldn't be dancing to the tone of the social media, that's the comedians centre.
"If a person would call for the scrapping of SARS, is the person not an armed robber himself?
"They are just carrying their campaign in the social media."
Recall that Nigerians at the weekend re-record their campaign on social media calling on the police authorities to immediately scrap its Special Anti-Robbery Squad unit over allegations of some atrocities being carried out by men of the unit.
The campaign tagged:#EndSARS had dominated the social media space at the weekend with Nigerians alleging extra-judicial killings, wanton arrests and dispossession of properties through physical assault and other intimidation tactics against the men of the Special Anti-Robbery Squad unit of the Nigeria Police.
Subscribe for latest Videos