By Egufe Yafughorhi
THE just concluded Diamond Jubilee of  business mogul and Delta State All Progressives Congress (APC) Leader, Olorogun O'tega Emerhor, turned out to be a rewarding experience in diverse ways for different folks.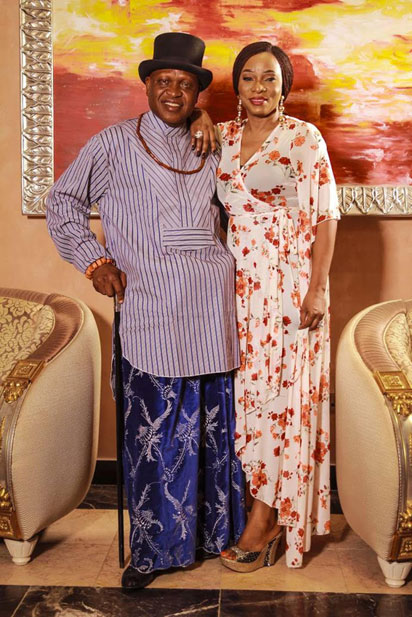 By the time the curtain fell, Sunday, November 26, on four memorable days of  celebrating Emerhor at 60, 1000 persons had  benefitted free eye care with drugs and glasses dispensed across four communities, 262 persons received N50,000 business starter capital  each  with a promise to further reward those who made success of the gesture.
A clinic sponsored by Emerhor in his Evwreni home community, Ughelli North local government area, got funding brace with goodwill donations over a novelty match between male and female well-wishers of Emerhor. Various cultural troops across Delta, who entertained guests  on  November 25, the day Emerhor actually turned 60, were not left out in the rewards and they returned home with various cash prizes.
Fulfilling moment
For the celebrant, whose delectable wife, Rita, also got a year older the day before, the home coming for a 60th birthday celebration wasn't really about the fun of it. "We sat as a family, me, my wife and the children, and asked ourselves, do we have to stay in Lagos, invite all the rich and influential people to come and pump champagnes, eat and drink to another birthday for me?
"The common answer was no. And the consensus was for us to come home and use my 60th birthday celebration to give back to the community. I am very glad we took that decision going by the results achieved and the enthusiasm from beneficiaries and well wishers", Emerhor summed  up the event.
Multiplier effect
Touched by the emotions among beneficiaries, former Speaker of the Delta  State  House of  Assembly, Rt. Hon. Victor Ochie, who had the honour of chairing the empowerment session where Emerhor splashed over N13.1 million business support on the 262 beneficiaries, offered a personal N1,000,000  for 20 additional beneficiaries, preferably indigent widows to be determined by Emerhor's wife.
"We cannot describe what the Delta State government is doing as empowerment because that is our common wealth. We must commend the efforts of Emerhor because what he is doing today is from his personal pocket for the benefit of his people", Ochei  said.
Emerhor, the  APC governorship candidate in the 2015 general elections in Delta State, said: "Government has a responsibility to provide for the citizens to set a minimum standard of living for the people. Unfortunately, since 1999 when the PDP came to power, we have not been able to attain that level of empowerment.
"This is one of the primary reason we are fighting to take over government because we are people oriented and APC must stand to ensure that good governance is enthroned in Delta State." The celebrant's wife charged the beneficiaries not waste the seed money on frivolities, but to wisely invest it and pray God to speak breakthrough to it.
Strength for Delta APC
The event also attested to the new found cohesion in the Delta APC. Vice Chairman, Delta Central, Chief Adelabu Bodjor, said, "We made it clear at the very beginning that the Delta APC, under firm leadership of Olorogun Emerhor was never divided, but merely passed through the formative challenge of bringing the various leading stakeholders from diverse background, ideas and past partisan leanings together to form one formable opposition to takeover Delta.
"Through the resolution of perceived differences, amplified by the defining appeal court judgement, no one who doubted us before can now express any confusion as to the direction the leadership of the Delta APC is tilted today. The Prophet Jones Erue EXCO is charge of Delta APC and there is no question about the fact of Emerhor being Leader of the party.
"But for his tenaciously humility, outstanding tolerance for absorbing even the most unprovoked antagonism and a sacrificial heart for sustained selfless support for the party, recent high profile defectors from various political parties would not have found the Delta APC as the preferred destination to play politics with high hope of a better tomorrow for Delta."
Encomiums  on Emerhor came in torrents, but there was just about enough breathe to capture some of the most emotional.
"This is one of a kind for us and I promise to make judicious use of my package in my business", Onakpofure Martins after he received his N50,000 business cash support from an Emerhor he hardly knew before the empowerment session.
"This is a privileged opportunity for me because I have been battling with my sight for years before I attended this outreach programme", Ofejiri Oketaire exclaimed at the relief felt after the Emerhor eye care charity treated his eyes and glasses  delivered.
"Our administration will continue to welcome constructive criticisms from accomplished, highly respected statesmen and committed patriots like you", Governor  Ifeanyi  Okowa stated  in his birthday message to Emerhor.
"We celebrate you because of your integrity, emotional intelligence. We go to him because he delivers results for us when we are in a fix", said  Tony Elumelu, Chairman, Transcorp Group, represented by Valentine Ozigbo of Transcorp Hotels.
"It is time President Buhari recognizes there is a leader called Emerhor in Delta  and reward him accordingly. Delta is fortunate to have Emerhor with such depth  of knowledge, connections and selfless  service to humanity. Deltans will be more fortunate when they support Emerhror's passion to bring genuine governance to the state",  Alh. Yaya Saad, from Kaduna, said.