UK Ambassadorial award Warri-bred humour merchant, Francis Agoda, popularly known as I Go Dye, who is fast becoming a social commentator received UK DFID and Youth Alive Foundation Ambassador award to tackle corruption in Nigeria on Saturday, December in Abuja.
The award tagged "Making a Difference Against Corruption Today' was presented to I Go Dye by United Kingdom's DFID (Department for International Development) with a view to inspiring the comedian to enlighten the youths about corruption.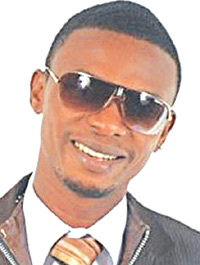 After receiving the award, the ace comedian dedicated the award to Nigerian children and the country's pensioners, observing that corruption committed against pensioners is the highest form of inhumanity.
"I   want to once again remind us, that the issue of corruption witnessed against pensioners is the highest form of ill treatment against humanity; denying them their benefits is unimaginable in a society like ours that has no social welfare package for elderly people.
We all should speak now for their comfort,because this is part of the reasons young people hate public service and when they get employment they see it as a means to steal public funds to preserve them against foreseeable   situations facing pensioners across the nation.May God bless Nigeria and keep all the pensioners alive, to eat the fruits of their labour," he said in in his speech.
I Go Dye has never been equivocal in his fight for the emancipation of the Nigerian youths, his many commentaries in this regard is fast becoming popular to the public acclaim. Recently, he questioned former Vice President Atiku Abubakar's sincerity in using the Nigerian youths as the motive force to drive his campaign programme in a bid to gun for the presidential seat in the 2019 elections.
Apart from being United Nations Millennium Development Goal Ambassador, United Nations World Habitat Ambassador, 2017 African Child Prize winner or being listed 100 Most Influential Persons in Africa by Global Icons and 100 Most influential   Deltans, he has many other local feathers to his cap.