By Onochie Anibeze
Mrs. Nneka Ikenna will any time from now put to bed in Mumbai, the commercial capital of India. The challenges of life in the densely populated city that compares with Lagos have not in any way halted the agility of the Nigerian born woman that has made Mumbai home in the last couple of years.
The sumptuous meals she served on Christmas Day made my celebration of the birth of Jesus Christ, our Lord, a worthy experience. I had met her husband in a Moneygram/Western Union office here on Mira Road in Mumbai, the financial hub of India. Shortly after Mr. Asforg, the official who attended to me told me that many Nigerians patronised his office, a black man walked in. It was normal that in such foreign lands, on sighting another black man, some introduction would follow. Paul Ikenna is one of the Nigerian businessmen here.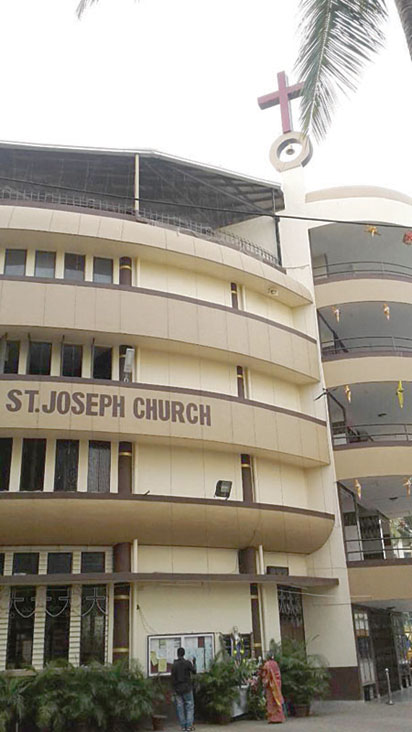 Banters exchanged, and we struck some relationship. My hotel is not far from his house and the invite to spend Christmas with his family excited me in this foreign land. Christmas was still four days away, and he felt it was too long to know his family. The following day I was with him in his house.
"I came here as a very young boy in 1989. I married here, and I have two children, and a third one is on the way," he said as his wife prepared lunch in the kitchen. "We were married at St Joseph Catholic Church," he said. Interestingly, that's where I have been worshipping since I moved to Mumbai from Delhi.
"We are known in that church. When the mass is over on Christmas Day come over here let's make merry. It will be nice to host you," Paul added to his earlier invite. He advised that I should be early for the Christmas Eve mass otherwise I would not get a seat even one hour to the beginning of the Eucharistic celebration.
His words came to pass. I was there early but not in good time to have a seat at the large open place where they normally hold such celebrations. The sea of human heads already seated and singing Christmas melodies was moving. The church hall itself was also full. The altar was outside, in the large open place and inside the main church hall, people followed the celebration on a large screen. Ushers directed us to three other floors in the main building. Each floor had large screen sets that transmitted the mass. These were not enough for the celebrants. They spilled over to the street leading to the church. It was an amazing experience for me.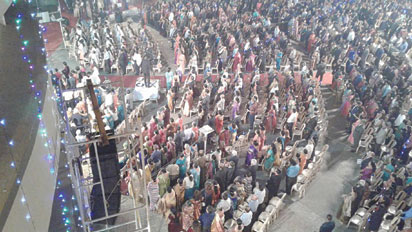 The people were all gorgeously dressed. Christmas Eve mass, here, is deeply moving as even non-Christians join in celebrating the birth of Jesus Christ. In India, they respect and revere all religions. It is common to see a Hindu passing by the statue of Jesus Christ or the blessed mother, Virgin Mary bowing with his hands clapped in reverence. Sometimes they touch and kiss such holy symbols.
The Christmas Eve celebration here had all the semblance of what people experience in St. Peters Square in Rome, the difference just being that the Pope was not the Chief Celebrant. The choir was amazing, and the solemnity of the whole Eucharistic celebration gave people goose pimples. God was with us on the night and is still with us in Jesus name. Amen.
The Ikennas have not been immune to such spiritual feelings as was manifest this past Christmas Eve.
"India has changed my perception of Christianity," Paul's wife, Nneka said while I was devouring the plate of Oha soup. Before my visit, I had told them on the phone that I preferred to swallow than chew. They said I didn't need to remind them as they knew what would be most palatable.
"The worship of God here is open and very peaceful," Nneka continued. "Our people need to learn from them. Everybody respects every religion. They believe we are all praying to God and should have no cause to quarrel over religion," she said. Paul added that their peaceful nature must have influenced their break up with Pakistan.
"You heard the emphasis during Holy Communion that it was only for practicing Catholics. There were Muslims and Hindus there celebrating the birth of Christ. They simply join their Christian brothers every Christmas. And Christians also celebrate with others during their festivals. It's so peaceful here."
He spoke about the life style of Christians and priests here.
"As big as that St Joseph Church is, it is probably the parish priest that has a car. The other priests use motorcycles or bicycles. Some don't even have anything and have to take public transport to their duties. You hardly hear of prosperity preaching and the craze for money that is common back home. The preaching here is mostly on salvation, eternal life, loving one another, etc. And they are happy. This is not where people are inundated with preaching on miracles of riches."
Ikenna was right. From my experience from Sacred Heart Cathedral in Delhi to St Thomas and St Joseph here in Mumbai, there was no case of preaching on prosperity, tithes, enemies, devils and afflictions as people are bombarded with in various denominations of the Christian religion in Nigeria. Nobody is praying for his real or perceived enemies to die.
The prayer here is for all to show love to one another. The emphasis on Boxing Day mass was for all to emulate St Stephen who prayed for his persecutors even at the point of death. Christ taught love and turning the other cheek. Many Nigerian pastors pray and teach their members to wish death to their enemies. Little do they know that God never answers such prayers.
It was a wonderful Christmas for me here in Mumbai. There was no fuel scarcity, and the ATMs worked. There was no cursing, no acrimony, no anger as it was back home in Nigeria. Christmas was really a time to make merry.
There was love and the people revered in it. Nigerians here have a good story to tell about their stay and the people here. But it is slightly changing.
"Some Nigerians have come with their style of Christianity here, and they are giving everybody bad name now," Ikenna said. "Pastors have started opening churches, and like in Nigeria they are competing for membership.  One man has just fallen victim. He was rich but now uses Trico (Keke). His wife cleared their money and said she sent it to their pastor as a tithe. It is a scandal. That is the latest news among us here." It is not only in the Nigerian churches here that Nigerians are plying their "trade."
Asforg told me that many Nigerians were forced by the police to relocate following their uncouth tendencies.
Now Nigerians are into prostitution and other social vices.
"Teenage girls find their way here, and some of them are now into prostitution," Charles, a Nigerian trader said here.
"But there are Africans from Uganda, Ghana, Kenya and other places who are also into human trafficking," another source said. The horrific stories they tell of Libya and Nigerian illegal immigrants may be alien here, but if care is not taken, we may have another Libya in India. The Indian authorities appear to be aware of this, and they have tightened conditions for issuance of visas.
The Ikenna family would not stop talking good about India.
'In spite of their population, they have food. Yes, there is poverty, but they have food. They have a good education system, and healthcare is superb," Paul says. Nigerians come here for healthcare. I know of people who had bad cases and went home better."
The wife continued:
"For me, they changed my perception of Christianity or religion. I now appreciate that worshipping God is in the mind and it is between you and God. The noise-making is too much in Nigeria, and yet you have the worst crimes there," Nneka said.
"Nobody makes tithe the issue here. The people don't fight over religion. The preaching will not scare you. Nobody is telling you that your sickness or drop in business was caused by enemies in your village. In Nigeria, they scare you in the church and compel you to be coming every day so that offerings will be high. Nothing like that here," Nneka added.
In the churches I have been to here, it is only on Sundays that offerings are made perhaps in line with the injunction at 1 Corinthians 16:1-2. And they quietly make them by passing a small box around. Nobody tells you to raise your hands to show what you want to offer to God. Nobody insists that it is only in giving in the church or paying tithe that you receive God's blessing.
A few years ago, I celebrated Diwali with the Arya family in Delhi. Diwali is the biggest Hindu festival. It is like their Christmas. It is the celebration of good over evil, a celebration of light. I, a Christian, was invited to pray and they knew I would pray in the name of the Father, Son, and Holy Spirit. I did, and they appreciated my prayers. I will be celebrating the New Year with the Aryas in Delhi, and we will all worship God, thank Him for His mercies and pray for more blessings in the New Year. May God hear our prayers.