..Says private sector doesn't respect minimum wage
—-Tasks journalists on self improvement
By Johnbosco Agbakwuru
ABUJA – VICE President Yemi Osinbajo Monday said journalists in the country with the poor remuneration cannot live a decent life.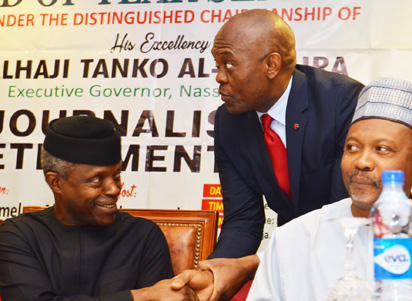 The Vice President also lamented that the private sector in the country does not respect the national minimum wage.
He spoke on Monday in Abuja during an end-of-year seminar of the State House Press Corps with the theme: 'Journalists and Retirement Plans'.
The Vice President said that although remunerations were generally poor in the country, including his own and that of the President, the case of journalists was unique because many media owners are making the revenues but simply refuse to pay journalists better as and when due.
He noted that while he earns about N1.5m as Vice-President, President Muhammadu Buhari earns about N1.75 million, which was not commensurate with the offices they occupy.
The Vice President recalled his brief encounters working with media houses as legal adviser, and how in all the months he worked, he was not paid despite the irregular hours he put in.
Giving other reasons for the fate of Nigerian journalists, Osinbajo noted that the private sector, which hosts many media organisations, does not adhere to the country's minimum wage, which is currently N18,000 per month.
He also pointed out that entry into journalism is not rigorously regulated or enforced by professional bodies as even untrained persons are allowed in.
He however, absolved the journalism on its own, saying that it is not exactly the fault of the profession but the way the reality of modern trends and invasion of social media has made it be.
He said, "I realized first of all that this is not a profession from which one could make a decent living in the first place unless you find a really good way of doing so.
"But more importantly for me was the fact that you are just on your own. Journalism as a profession is so wide open
"There are a few reasons in my view why remuneration is poor and why those in the media especially those who are formally engaged, I will show you that it is not your profession and why that is the case.
"The first is that it is just simply cheating. There are owners of media that are just cheats. They just want to get something from nothing and that is not uncommon, it is a general malaise, it is not necessarily restricted to the media.
"It is also the same in the legal profession. There many lawyers if they tell you what they earn, you will certainly not want to be a lawyer.
"The private sector does not respect the minimum wage. Even if a minimum wage is set nationally it is not necessarily respected by the private sector and this is something that should be factored in to the status of a company and whether a company is even complying with the requirements.
"In other places these are points which are checked when you are being considered for task, whether you are meeting your task or not. That is not the case here, so we need to enforce that.
"We need to enforce some kind of adherence to the minimum wage structure. Not just the minimum wage of the lowest paid person, but minimum wages across the board especially so that there is certain amount of regulation of how people are paid and how they are paid.
"Entry into journalism is not vigorously enforced. Most professions are able to pay better because there is entry requirements that are rigorously enforced, Perhaps not the case in journalism and for good reason.
"There are those who are formally trained as journalists but the profession will admit anybody at all even if you are not formally trained as a journalist and that is even becoming more so now with social media platforms, with blogs."
The Vice-President further observed that market forces also very often determine the revenue of media houses and the pay that journalists attract for themselves.
He therefore challenged journalists to brighten their prospects and future by always seeking ways of improving themselves and getting better job opportunities with attendant improved income.
He said it was inevitable that when one improves to be good or better at something, he attracts better pay; and this applies to journalists and even media outfits as better performance by newspapers and broadcast stations attracts more endorsements and adverts.
Osinbajo touched on the role of professional associations guiding journalists, and lamented that they do not adequately engage media organisations that don't pay their workers or journalists enough or not at all.
Chairman of the occasion and governor of Nasarawa state, Tanko al-Makura, represented by the state Commissioner of Information, Mohammed Kwara, said a good retirement plan starts the day one is employed.
He said: "On the whole, it is important to note that a good retirement plan starts the very day you are employed knowing that whatever has a beginning has an end. 35 or 60 mandatory years of service are certainly not eternity.
"It must also be stressed here that it is not too late to plan even where you have just few years to retire from service.
"The most important thing is that you have a plan either of money saved or of the job you intend to carry after on retirement. Put every other factor in place such as your age, strength and the mental capacity to carry on."
The guest lecturer and Chairman of Elumelu Foundation, Tony Elumelu said retirement should not be synonymous with being tired or giving up as it should be a stepping stone.
He advised working journalists to pursue their purposes with passion, stressing the need to increase capacity in readiness for the next phase
He said, "Entrepreneurship is not a function of age. Set your milestones and work towards accomplishing the milestone.
"Entrepreneurs are resilients, they persevere to succeed. You don't need to give up easily, it requires sacrifice, discipline"