By Emma Una
CALABAR—STATE Executive Committee, SEC, of the Nigeria Labour Congress, NLC, in Cross River State has given the state government seven days ultimatum to implement the Memorandum of Understanding, MoU,  signed between the government  and  the workers body in July, 2017, or face an indefinite strike.
Mr John Ushie, NLC Chairman in the state, told Vanguard, yesterday, after a meeting of the State Executive Committee, that six months after the NLC signed an MoU with the state government for the payment of the gratuities to retired workers, pay arrears of pensions and harmonise the payroll of all workers in the state, the government has failed to implement the agreement.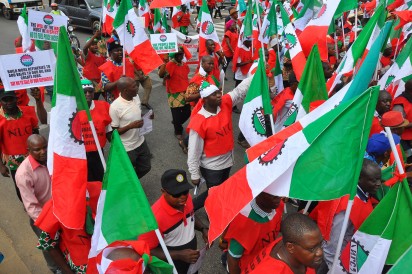 He said: "We are disappointed that Cross River State Government has not kept to the agreement with workers to pay gratuity to workers who retired in 2013, 2014, 2015, 2016, and now 2017 is getting to a close and nothing has been done even after the state received the Paris Club Refund twice which the Federal Government  specifically directed should be used for the payment of salary arrears, pensions and gratuity to workers."
The NLC chairman stated that the government has failed the workers, adding: "SEC is giving  the state government seven days beginning from December 13 to implement the July 2, 2017  MOU. Failure to do so, the workers will resume the strike."
who have over the years shown patience and understanding by refusing to allow promotion of workers, release of running allowances to ministries, agencies and departments in the state, which has slowed down government activities in the state.
He said the consulting firm engaged by the government in 2016 to carry out audit of workers messed up the exercise leading to what he called haphazard payment of workers,  a situation where some persons who earn 40,000 are paid 10,000 and some not paid  for several months.
"The State Working Committee of the NLC also wishes to inform the people of the state that all efforts to reach the governor have failed. We have sent letters, text messages, watsapp messages yet nothing fruitful has come from those efforts consequent upon this, SEC is giving  the state government seven days beginning from Wednesday, 13th of December to implement the July 2, 2017  MOU, failure to do so, the workers will resume the strike."