By Ola Ajayi
Ibadan—THE Academic Staff Union of Universities, ASUU, has accused the Federal Government of plans to deliberately stamp out public universities by starving it of funds.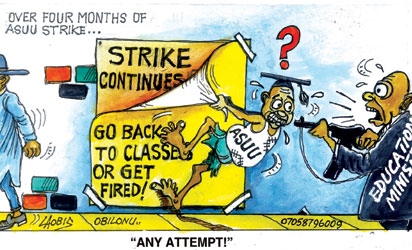 This was disclosed by Chairman of ASUU, University of Ibadan branch, Dr Ayodeji Omole, a press conference in Ibadan yesterday.
Omole lamented that our leaders in the country allowed private universities across the country to feed fat on Nigerians with the outrageous tuition fees they charge.
He said: "Government wants to deliberately kill public universities in the country. In the olden days, both the children of the rich and poor mixed together in universities. But now, they (leaders) have succeeded in separating us. Definitely, our salvation is not in the hands of these our leaders."
Also, he said that "It is unfortunate that we are in this mess.  As long as we remain focused, we'll continue the fight.
"The ruling class are united against the masses.  That is why it is very difficult to fight them because they have a common interest. 2019 is around again, they will divide us on ethnic and religious lines for their selfish interests."
"In our fight for a better society, we must continue to work together. It is our responsibility to speak for the voiceless and to protect the interest of the masses. Nigeria of today is not Nigeria of our dream when we were growing up.
"The country will not move forward until we organize ourselves to move forward.  No PDP or APC has solutions to our problems.  That's why they are moving from one party to another", he said.