Lebanese security forces on Sunday fired tear gas and water cannon at demonstrators attempting to march on the US embassy in Beirut in protest at President Donald Trump's recognition of Jerusalem as Israel's capital.
Security forces cut off all roads leading to the embassy in northern Beirut to prevent protesters from reaching the mission.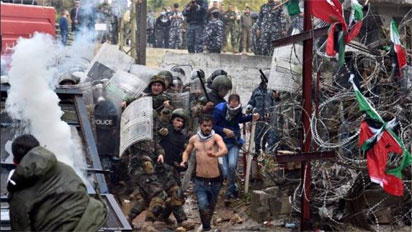 The forces also set up barbed wire around 1 kilometre from the embassy.
The forces fired tear gas when the demonstrators tried to breach the barbed wire and reach a closed road leading to the embassy, a police source said.
In response, angry demonstrators hurled stones at security forces and set nearby garbage drums on fire, witnesses said.
Some protesters also torched an effigy of Trump. Others, waving the Palestinian flag, chanted: "God Bless Jerusalem" and "America is the head of terrorism."
The protesters were a mix of Palestinian and Lebanese leftist groups, according to witnesses.
Several people reported temporary breathing problems as a result of being hit with tear gas, Lebanese television LBC said.
In a gesture of solidarity, Lebanese Prime Minister Saad Hariri on Sunday ordered the Palestinian flag raised over the Rock of Rouche, a popular sea landmark in Beirut.
Lebanon is home to more than 400,000 Palestinian refugees, who are living in 12 camps scattered across the country.
Lebanon does not recognize neighbouring Israel. In 2006, Lebanon's pro-Iranian Hezbollah movement fought a war against Israel.
Palestinians see East Jerusalem as their future capital and are demanding the establishment of their own independent state.
NAN