By Emmanuel Elebeke
ABUJA—The 2017 National Poll released last week showed that only 3% of Nigerians have some form of access to health insurance to cover the cost of accessing healthcare services.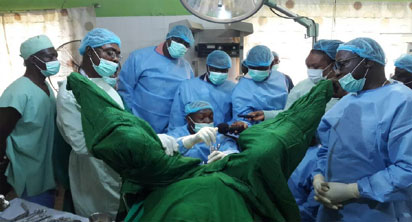 According to the poll, 77% of Nigerians pay for health services out of their  pocket, while 16 percent receive  support from family and friends to access healthcare in the country.
The poll which was conducted between April-may this year was focused on governance and institutional performance of President Muhammadu Buhari's administration.
On governance, the Poll rated the job performance of President Muhammadu Buhari 52 per cent as at April-May this year, when the poll was conducted.
Expectedly, the highest approval rating of 75 per cent was received from the President's home base, the North-West geo-political zone; while his lowest approval of 19 per cent came from the South-East geo-political zone.
The poll also rated the President on specific sectors on a 4-point scale, where 1 stood for poor and 4 stood for Excellent.
From the results, the highest average score of 2.3 points each was obtained for the President's performance on Security and Agriculture; while the worst ratings of 1.8 points each were for his performance on the Economy and Poverty Alleviation and Job Creation.
Similarly, 60 per cent of those polled said they were unsatisfied with the president's handling of the economy.
Subscribe for latest Videos