By Godwin Anaughe
As Olorogun O'tega Emerhor deliberated his 2015 run for the governorship of Delta State, he may have envisaged that his chances of winning were limited because his new party, the All Progressives Congress (APC) was not well accepted in the South-South geopolitical zone.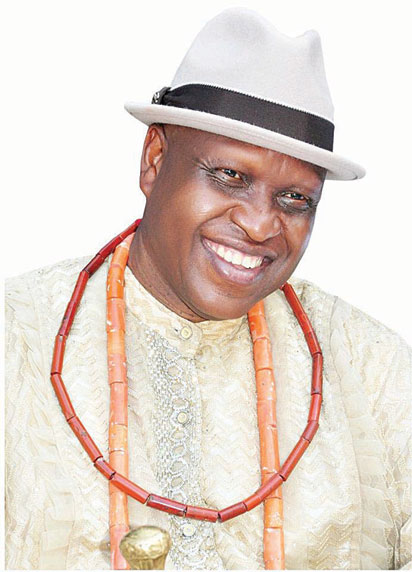 Historically,   the Urhobo nation always allies with major political parties. These were the National Council of Nigeria and the Cameroons (NCNC), the National Party of Nigeria (NPN), the Social Democratic Party (SDP) and the Peoples Democratic Party (PDP) up till the 2003 elections.
In return, Urhobo had tremendous influence in the politics of State and country. Chief Festus Okotie-Eboh was appointed Federal Minister of Finance in the 1st republic; Chief Patrick Bolokor as Minister of State for Foreign Affairs in the 2nd republic, Chief Felix Ibru was elected the first Executive Governor of Delta State in 1991 and Chief James Ibori, another Urhobo son became governor in 1999.
Urhobo nation was also rewarded with some very critical industrial projects such as Delta Steel Complex, the Warri Refinery and Petrochemical Company, the Ogorode Power Station at Sapele, the Delta Electric Power generation Station at Ughelli, and the expansion of the Warri Port during the second republic because of its support for NPN, the then ruling party.
But all that changed in 2003 when Urhobo threw away its much cherished life-long armour as a mainstream political player and embraced non-major parties that existed as protest groups that had no national appeal. Dissatisfied with PDP performance in the governance of Delta State, the Urhobo nation turned it's back on PDP and went all out for candidates of these non-major political parties in all elections since 2003 in attempts to dislodge PDP from the state.
First, it was with Alliance for Democracy (AD) in 2003 and thereafter the Democratic People's Party (DPP) in 2007 and 2011. The Urhobo people invested heavily in cash and votes. But it was all for naught, as the result has been a series of stunning defeats that eventually diminished the power, influence, and relevance of the Urhobos politically. Sadly, the Urhobo nation has not fully recovered from this decline till date.
In a desperate attempt to regain it's leading role in Delta politics and position itself in the mainstream of Nigerian politics, the Urhobo Progress Union (UPU) made the famous Uvwiamuge declaration that the Urhobo people will only support a national party that nominates a candidate of Urhobo extraction for governor. And for Emerhor who sought to return Urhobo to mainstream party politics and rescue Delta State, a governorship race, win or lose, would in his estimation do the trick.
Fast-forward to today,   Emerhor's decision to run for Governor and invest in APC has started to bear critical fruits that are changing the political landscape in Delta State.   Urhobo has not just found its way back to a major political party but with Chief Great Ogboru and Senator Ovie Omo-Agege and their supporters in Labour Party now in APC, Urhobo has now aligned with the ruling national party following the victory of President Muhammadu Buhari in 2015.
Key federal appointments are now coming to Urhobo, notwithstanding that other ethnic groups also receive consideration. The growing influence and relevance of Emerhor in Delta political sphere across the three senatorial districts have now turned Evwreni, his home town, and that of the first governor of former Midwest, Chief Samuel Jereton Mariere, into the Mecca of progressive politics in Delta State.
However, the possibility of Urhobo nation regaining its previous leadership role in State politics, and accomplishing its mission to free Delta State will depend largely on what Urhobo decides to do with the 2019 general elections, and in particular the Governorship election. Any mistake could ruin everything for Urhobo and this will further plunge Delta State   into the abyss.
Would the large followership of Urhobo progressives, in particular, emulate the Emerhor smart strategy and adopt a selfless approach that should pave the road to Urhobo's return to prevalence? Or will they cling to the old selfish cul-de-sac approach that has for the past five elections isolated and made Urhobo irrelevant? And which in essence, has allowed the PDP to remain in power unchallenged? This is the big question of the day.
The prevalence of Urhobo in Delta politics is unstable now and a lot is at stake for 2019. This is time to think hard and deep! Would it not be in the best strategic interest of Urhobo progressives to first dislodge PDP from power in 2019? Or is it going to continue to revel in failed politics that had almost brought it to near irrelevance?
Urhobo can no longer act alone in pursuit of its goals of being a potent player in the political future of Delta State. It must now reckon with the fact that it singularly does not have the numbers nor demographic threshold that can make it act alone. If it must win, it can only do so with the support of other ethnic groups. And, after five failed attempts with small parties that do not have a national spread, it must realize once again that it must align itself with any of the national parties to win.
It is my contention therefore that it is no longer in Urhobo's long-term interests to continue to support any Urhobo governorship aspirant operating in small or regional parties.
To enhance its political clout, Urhobo has to accommodate and engage with minority ethnic groups in other zones to build strategic alliances that can re-shape the politics of Delta State for years to come even if that means Urhobo has to support a non-Urhobo candidate when it is essential to do so for success.
It is time to bring to the fore the interest of Urhobo, and it does not have to be about the ambition of any one person. Whether there is an agreement on power rotation or not, this matter is not about the constitutionality of zoning or fairness of our electoral process; it's not about PDP or APC, rather it is about the general well being of the people. For Delta progressives as a whole, it is more about winning in order to have the chance to correct the direction which the state is moving and be able to raise the living standards of all Deltans.
Make no mistake, in an election which is more likely to be a resemblance of 2015 contest and not the 2011 scenario, putting forward an Urhobo candidate would be a dumb thing to do. There is no way a Delta Central APC candidate can defeat Governor Ifeanyi Okowa of PDP given that the majority of the voting public has huddled into their ethnic corners since that 2011 election, and now believe in power rotation as was evident in the 2015 general election when they voted along ethnic interests. It is therefore not sound to think that they will do otherwise in 2019. Delta North will still vote along the line of communal interests in 2019.
How can Urhobo nation look our neighbours, the Aniomas in Delta North, the Ijaws, Isokos and Itsekiris in Delta South in the eyes and tell them to vote against their own communal interests, when it is intent on voting in line with its own interest? How can we expect them to vote against power rotation when it is their only hope, for now, to produce their own governor in the future. It doesn't seem right to expect the Isokos and Ijaws for who have never benefited from power rotation and wish to benefit from it in the future to now vote against it. Even the Itsekiris who campaigned for and benefited from power rotation cannot be reasonably expected to shot it down. How can we even expect minority voters to take APC seriously if it does not align with them on a matter as clear-cut and important to them as power rotation?
The eyes of the rest of Delta are on Urhobo, especially the progressives, and what it will do in 2019. If they can be imaginative and strategic about the way they vote and use 2019 to build strategic new relationships and partnerships, especially with Anioma whose turn it is to produce the governorship for another term, it would regain the confidence of ethnic minorities and its commanding role in Delta politics will be assured.
It is disheartening that despite its huge demographic advantage, the candidate for governor supported by Urhobo   lost five consecutive times. The main reason for this is that Urhobo progressives in the opposition parties had always presented an Urhobo candidate only. And again because the trend line suggests that the chances of an Urhobo candidate winning the 2019 election are nearly zero, doing this again in 2019 would be a strategic and tactical error that would set Urhobo back for many years. This is an obvious fact, and pretending otherwise or being head-strong about it seems silly and amounts to a selfish endeavour that may cause a revenge against Urhobo in future. The other ethnic groups are more conscious now, more than ever before.
The days are long gone when Deltans used to look to Urhobo for political leadership. We abdicated that leadership responsibility when we embraced minor political parties and decided to go alone. Now is the time for Urhobo progressives to join hands with other ethnic groups to build a winning coalition to defeat Okowa's PDP and free Delta State. It is only by so doing that Urhobo will again rise to its rightful place as the pre-eminent political powerhouse.
Olorogun O'tega Emerhor understands this very well and he has made a smart, strategic and selfless decision not to seek the governorship ticket of APC that he can easily win.
Emerhor decision to put his ambition aside so that APC would pick a candidate in line with the existing power rotation order would restore the pride of Urhobo and should be applauded. It is the only reasonable path for rescuing Delta State from those who have held it hostage.
 Anaughe wrote from Lagos