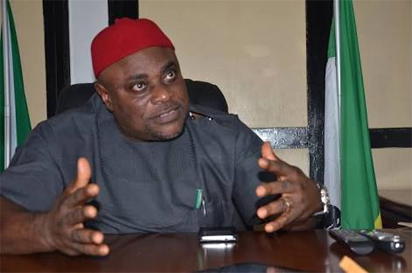 Chief Victor Ike-Oye
Dr Victor Oye, the National Chairman of the All Progressive Grand Alliance (APGA), said 2018 will be challenging and called on Nigerians to brace up for tough times.
Oye gave the charge in an interview with in Awka on Tuesday.
He described the outgoing year as generally impressive on security and economy but decried the harsh living condition of the people.
Oye said being a year preceding a general election, there would be heightened tension in the country and charged President Buhari and the security agencies to prevent untoward occurrence.
"Nigerians should gird their loins and be ready for the task ahead.
"2018 is going to be tough, politically, economically, socially and otherwise.
The tribunal will be heightened insecurity, I have envisaged it as a result of the 2019 general election.
"Politicians will get more money, more arms, there will be more tension preparatory to the election.
"President Buhari and the security agencies have a lot of work to do to ensure that the security of this country is maintained so that it will not affect the country adversely.
"I pray nothing bad will happen, may God give us humane and kind-hearted leaders in this country and not those who masquerade as people's messiah.
"I pray for leaders with passion and vision, men who will serve this country selflessly," he said.
Oye blamed the late take-off of the economy in 2017 on late passage of the budget and called on the National Assembly to be more proactive in approving the proposal next year.
He said though the fight against corruption was reinvigorated under Buhari, it needed to more wholistic.
"The outgoing year has been a good year for Nigeria and Nigerians, apart from some hiccups; politically, economically and socially it can generally be said to be a good year.
"It started on a very quiet note, the first quarter was fiscally tasking because it took the National Assembly time to pass the budget, that made the economy to operate a very slow pace.
"The second quarter saw more government activities, the economy was jump started, the economy did well judging from the statistics but living condition of the people was relatively poor.
"Corruption is being fought by this administration with increased vigour but we would have achieved more if the government had shown greater commitment to the fight.
"Some people are accusing the president of being selective and that is affecting the system; I believe if you want to fight corruption, you should get on and fight head-on, nobody should be favoured.
"Politically, nothing significant happened because it was not a year for general elections except for great things that happened in the Anambra election; that has set the tone for future elections in this country, and INEC did well in that exercise," he said.
The APGA chieftain called for more support for the president and other leaders at various levels of government and prayed God to give Nigerians better leaders in the next elections.
"My prayer is that God's mighty hand will continue to rest on this country so that all the evil people who constitute an impediment on our way to building an egalitarian society will be decimated.
"No country grows where the evil people are in the majority, people who are wicked and have no respect for human dignity, for me I score Nigeria 60 per cent and I hope we can grow to 80 per cent in 2018.
"My position is that our leaders should be supported because every leader has a predestined purpose; Buhari is on a divine mandate; it is either God brought him to redirect us or to chastise us as He did to the Israelites in their days of yore," he said.
NAN