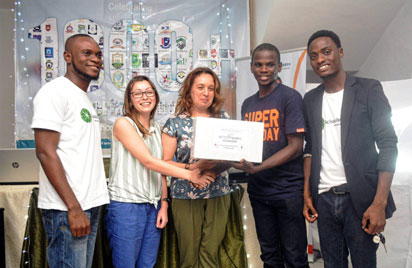 From left: Adeboye Oshinaga, CEO, SchoolsCompass, Aga and Agata from WhyBlueSky.Net and Koya Adeniyi from Concordia College, winner of most endorsed school on SchoolsCompass.
By Dayo Adesulu
As each new term approaches, parents are faced with the task of choosing good schools for their children, over 20,000 parents visit SchoolsCompass website monthly in search for good schools.
The Chief Executive Officer, CEO, SchoolsCompass, Mr Boye Oshinaga who spoke during a press conference in Lagos said that rather than parents relying solely on recommendations of friends for an  ideal school, they can search for schools from the comfort of their room through the internet.
He disclosed that over 1,000 schools have  increased enrolment into their schools by connecting to SchoolsCompass who connects them to ready parents looking for schools to enrol their kids.
"Some find this exercise quite difficult given that there are ever increasing options of private schools to choose from but lack adequate information on most of them to make a decision," said Oshinaga.
According to him, while some parents have to rely solely on the recommendations of their friends which is mostly limited, others have had to go through the gruelling task of visiting school after school to ask pertinent questions and view their facilities. He explained how SchoolsCompass works and said  unlike the traditional online school directories with just contact details of school officers on their websites, SchoolsCompass is a school proprietor-led collection of relevant school information to guide parents' choices.
He noted that with a click of the mouse, parents can perform powerful searches to reveal relevant information on a  school location, facilities, fees, curriculum and academic performance.
''They can view the reviews of other parents as well as perform a comparison of select schools to weigh the pros and cons of their choice.''
He said presently, over 20,000 parents visit the wensite  monthly and more than 1,000 quality schools are on the site – www.schoolscompass.com.ng.
Some of the parents who spoke with Vanguard confirmed that SchoolsCompass has greatly assisted them.
Mrs Tolu Olaleye in Lagos said: "My child was home schooled till he was four years because I couldn't trust any school to adequately care for him as he was fragile. But when it was time to enrol him into primary school, I found Schools Compass. It helped me narrow my choice and I eventually found a school where the teachers were gentle and careful."
For Mrs Precious Okah in Akwa Ibom, whose two children are in Grades 5 and 7, her biggest concern has been curriculum and she goes as far as to cross-check this with the school's mission statement and vision.
On his part, Mr Suleiman Ibrahim in Gwarimpa, Abuja said he used SchoolsCompass while he was trying to provide better education for his five children.