The Senate President, Dr. Bukola Saraki, has said that the planned $1billion fund to be withdrawn from the Excess Crude Account, ECA, by the Federal Government will not be spent until the Senate makes considerations on the processes involved in its use.
Saraki gave the statement on Thursday.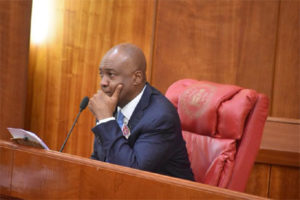 According to him, "Our party does not do things like that. We would not spend money that does not follow due process. I am assuring you that the money would not be spent until we come back and debate it. Leader, I hope you heard the commitment I made on behalf of all of us."
The Senate Leader, Ahmed Lawan, corroborated the senate president in the promise.
"Mr President I have heard you very well and it is a promise we would keep."
Recall that since the federal government announced that Governors had urged it to withdraw the said amount to finance security against Boko Haram terrorism in the country, many, especially PDP members have criticised the move, querying why the Federal Government wants to withdraw such huge fund to fight Boko Haram it earlier claimed it had technically defeated.
Details soon…