By Omeiza Ajayi
ABUJA – 'Suspended' Deputy National Publicity Secretary of the ruling All Progressives Congress APC, Comrade Timi Frank has berated the party's National Chairman, Chief John Odigie-Oyegun for reportedly downplaying the effects of the exit of former vice president, Atiku Abubakar.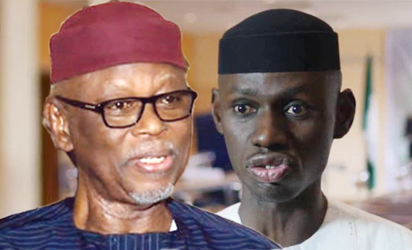 He said the chairman should be sober because the former vice president left the party largely due to the incompetent leadership at the APC national headquarters.
Frank said the national chairman should have known that he lacked no moral right to talk about Alhaji Atiku because "his incompetency contributed to the former vice president leaving the party."
According to him, the party chairman should have remained sober "because that was how he (Oyegun) chased out President Muhammadu Buhari from the defunct ANPP but today Buhari is the president.
"When you eat from a man and come back to talk evil of the same man, prosperity will definitely judge in this case. Oyegun is one of the biggest beneficiaries of Atiku in APC, we expect him to have little fear of God while talking in public.
"One should have expected our national chairman to focus on how to rebuild the APC now instead of concentrating his energy on Atiku Abubakar who is no more with us.
"I hope Chief Oyegun will learn from the history of Alhaji Bamanga Tukur and the PDP when some of us were leaving the party. The party later paid the price and if care is not taken APC too will pay the price of Oyegun's incompetency in 2019.
"Our national chairman ought to know that politics is a game of numbers, so we expect him to take responsibility for everyone leaving the ruling party to the opposition party under his watch.
"If Oyegun thinks that Atiku's exit won't create any impact, time will tell but I will still advice the party to relieve Chief Oyegun of his office before he anger more people to leave the APC. Atiku actually left APC because of such national chairman who could not ensure internal democracy.
Under Chief Oyegun, aspirants alleged that primary elections were won by higher bidders, party constitution suspended, display of impunity were the order of the day, inability to put BoT in place, lack of capacity to organise convention and other necessary meetings. So, Nigerians will expect our chairman to tell the world the value he has added to the ruling party?
"This is a national chairman who has never won election for APC even in his ward, how can he challenge a former vice president of Nigeria who has added values to democracy and even to the ruling party before he left", he stated.
Frank however, urged the real APC leaders to go back to the drawing board and see how the party could be rebranded before the 2019 general elections, saying under the current national chairman the party has gone into deeper crisis which.