…..as he unveils release date
By Iyabo Aina
Nigerian veteran Reggae star Winning Jah, recently announced his upcoming album programmed to be released on the 24th of November 2017, but due to technical delay, it was recently communicated by VP Records Label arms VPAL music, on 06-11-2017, explaining why the release changed from 22-11-2017, to 24-11-2017, slightly because typographical error on release date.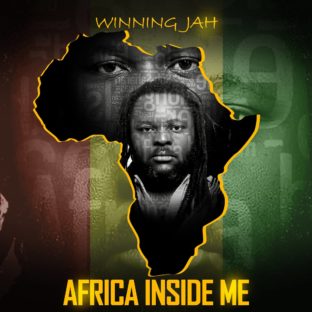 With all information gathered by our reporter on social media, we decided to reach out to the acclaimed 21th century Nigeria King of Reggae Kingsley Eno Osagie popularly known as Winning Jah for an interview.
What's are your fans expecting from the new album?
Firstly, it's the first of it's kind in Nigeria, I will say, the album has lot's of new rhythms, positive messages, more or less like a wisdom teacher.
What inspired the title of your new Album?
To be sincere, everyday, my thinking remains how to make Africa a better place for her Children to live without hindrance, I'm becoming too worried not only for Nigeria's social development but Africa. Nowhere is best in Africa, it's all the same. I decided to relieve my worries swiftly by using the title Africa Inside Me, and immediately I discussed it with my management, they already wrote a book "Africa Inside Me" with an ISBN for fans and foes, I'll get mine from the sbn/opac library so I can read. This new album to me is a sort of mini wiki where i voluntarily included my religious song track "Born Again" where I briefly introduced what "WinningJahrian" religion is actually about, sure am born again as a WinningJahrian worshiper. All of this inspired "Africa Inside Me" album
What is the difference between your previous albums and this upcoming album?
Of course in Nigeria, am the only Reggae musician, singing perfectly in French, Italian, and more including our major English language, like my good friend, Alpha Blondy, from Cote D'ivoire, who sings in various languages, perfectly. For me and everyone loving my positive message, this album is a plus .
"Africa Inside Me" hasn't only Multi-language tracks but also three counts milestone, being first of it's kind in Federal Republic Of Nigeria, in Reggae music genre, singing in French and more. featuring world reggae pioneer's family "Stephen Marley", son of the late Legend Bob Marley. For me as a role model to many other Reggae singers, was a great privilege to deliver maximum respect on behalf of all, west African Reggae acts, precisely Nigerian Reggae Musicians, letting Marley's family remember how much Nigerians love the Marley's family. Featuring Stephen Marley, wasn't a promotional technics to my album, or rather to drive higher sales, no! but a proof of an unconditional love, spiritually, is a significant of oness. Africa Inside Me was strictly written and spiced with Jah guardiance on various themes like Education, Wisdom, Peace, Religion, and more, the album has an Alias "School meet student" rhythms diversity from, Acoustic reggae, Ska, Dancehall, dubstep, One drop, Lovers rock etc., real different.
What is the difference between your ban debut album "Big Man" and "Africa Inside Me"?
Yea, from the past experience I had from that hit album "Big Man" was all pains and gains, the sales unit was a record to be remembered nationwide in the 90's , and the ban was a pain to be remembered, I learned a lot from that unbearable incident, i changed my strategy on how to make my new albums political and socially friendly, Now I don't think my recent albums risk bans, straight messages and more focus to keep my albums alive. No risk.
What advice do you have for upcoming artists?
To every upcoming artists, big up your chest, be focus on your creativity not cash, every hard work provokes huge incomes later, no hard drugs, alcohols, also learn how to impact people with your music by engaging them with social messages, be a reference and try leave an evergreen music, remember no hating because the industry is large, yea man.
What has been your contributions to the Entertainment Industry?
It's been a positive contributions all the way, I have donated morally, spiritually and financially to support a lot of Nigerian old and new artists, not only, my major contributions has been "Know How" I would say am a major mediator on helping the entertainment industry to brand and rebrand most musicians in Nigeria and diaspora. Recently, I've various artists from Nigeria, managed under my family indie record label "Enorecords Snc", for now the reggae artists, I manage at this moment, is "King Wadada", Kora award winner for best Reggae and his album "Omnipotent" released by Enorecords Snc and VP Records arms VPAL Music, was considered to be voted in the Grammy awards 2018, by December 2017, we get feed back, "Jethro Lion" Reggae/Dancehall singer "Daddy Fresh", ace Nigerian reggae singer, "Sidney Leo" Afrobeat Singer/Rapper, "Ebere Chi" Afrobeat-dancehall singer, "Naxis DG" afrobeat/dancehall singer, "DYCKOY" ace Nigerian Rapper and Dancehall singer, this most wanted Nigerian artists, are all from Enorecords snc/VPAL Music, artists roaster, certified to bring back home Grammys to Nigeria Entertainment.
What has been your contribution to Nigeria, as a Philanthropist?
Naturally, when you're counting the grace of God, it becomes uncountable, this question is like what is the appropriate estimate to feed a Child till he or she gets to 18 years only? Sure it is good to be good. If you refuse to share your riches with the poor, the poor will share their poverty with you. Well, I have done lots of initiatives since 2008, all over Africa. In Nigeria, over 20, thousand children benefits free clothes yearly from me, Kano- State, Lagos-state, Benin City (Edo –State) precisely. At Aduwawa Community, Benin City (Edo State) Nigeria, a free "Obaland Social School" under construction, to support Children from the community, over 200 persons aren't schooling at Aduwawa, is not also were I leave.
Over six thousand orthopedic materials freely contributed twice a year to persons with disability in Nigeria, with documented evidences, like videos, shipping Invoices, receipt of receivers, photos and others, for clarity reasons like annual Vat accounting , also obliged by legal tax offices. Same initiatives has been previously finished in various countries like Benin, Ghana, Mali, etc. not only in Nigeria.
What else do you have to say?
I will say thanks for having me, let's seat and expect the coming of My new album "Africa Inside Me" the album is 15 tracks, finally getting released by VP Records arms VPAL Music on the 24th November 2017, accessible worldwide on digital platforms like ITunes, Spotify, Amazon not only physical copies as usual, go stream to hear something new and once upon a time rhythm's, stay bless.