Pledges to fulfill his promises to Ndigbo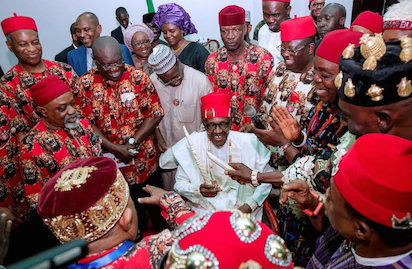 Bags traditional title of Ochi Oha
Commissions 6 projects
Work at 2nd Niger Bridge has stopped— Ohanaeze
Says Akanu Ibiam Int'l Airport under threat
By Johnbosco Agbakwuru, Peter Okutu & Chinedu Adonu
ABAKALIKI—PRESIDENT Muhammadu Buhari, yesterday, said his decision to visit Ebonyi State in the South-East geopolitical zone   was an indication that he believed in the unity of the country.
This is as the President once again reiterated his resolve to fulfil all the promises he made to Ndigbo when he met with their leaders at the Presidential Villa, Abuja.
President Buhari arrived army barracks, Nkwagu in Abakaliki in a helicopter, NAF 540, from Akanu Ibiam International Airport, Enugu, at about 11:20 am, accompanied by Governor Dave Umahi of Ebonyi State.
Speaking after being conferred with the chieftaincy title of 'Ochi Oha' (the people's general or leader of the people) by South East traditional rulers, Buhari said his presence in the area showed his strong belief in the unity of the country.
Buhari who was visiting the South-East for the first time since he assumed office in 2015, said: "My presence here today is a demonstration of my strong belief in the unity of Nigeria.
"As the most populous country in Africa, with over 300 ethnic groups, our diversity is almost unique. When I met with the leaders of the South East in Abuja last month, they raised  several issues of concern, including the state of the roads and infrastructure in the region."
Buhari reiterated his commitment to deliver on his promises, including addressing issues of agriculture, power and social services in the zone, adding that the 2018 budget captured strategic areas such as power, road and other social services.
The president commended Governor David Umahi for his warm reception and his commitment to the development of the state.
He said: "I am delighted to be here in Abakaliki to interact with the good people of Ebonyi State and indeed the South-East region as a whole. I want to express my gratitude to the people of Ebonyi State for their hospitality and warm reception since I arrived the state.
"I will like to commend Governor Umahi for his vision and commitment to the development of this state. Some of the projects I commissioned since my arrival are laudable. I am also grateful to the traditional rulers of Ebonyi State for the honour bestowed on me with the traditional title of Enyi Oha 1. I thank you for this honour and warm reception.
"I want to assure you that we will deliver on our promises. Our 2018 budget included many projects for the region in the area of power, agriculture and social services."
Commissions 6 projects
In Ebonyi, Buhari commissioned the 700m length of  Dr. Akanu Ibiam twin flyover bridges over the African Trans-Sahara route running from Enugu to Cameroon and commissioned 14.5 km federal road constructed by the Ebonyi State Government.
He also unveiled the statue of Dr. Akanu Ibiam and laid the foundation stone for Ebonyi City Mall, foundation stone for President Muhammadu Buhari flyover bridge/road tunnel.
The president further commissioned Senator Offia Nwali flyover.
Roll call at Barracks
At the Army barracks with President Buhari were deputy governor of the state, Dr. Kelechi Igwe; Minister of Science and Technology, Dr. Ogbonnaya Onu; former governors of Ebonyi State, Senator Sam Egwu and Chief Martin Elechi, who later joined.
Others were former Senate President, Anyim Pius Anyim; former Minister of Culture and Tourism, Amb. Frank Ogbuewu; ex-Minister of Health (State), Fidelis Nwankwo; former deputy governor of the state, Prof. Chigozie Ogbu and Zonal Vice Chairman of PDP, Chief Austine Umahi; CEO Orient Global Ltd, Chief Chukwuma Odi, among other top political leaders from the state.
Umahi lauds Buhari
Earlier, Governor Umahi said the state was appreciative of the President's support to the state, especially in the area of agriculture.
He, however, appealed to the president for refund of funds expended by the state government on some federal roads in the state.
Prior to the president's visit, Governor Umahi had on Monday warned all the political parties in the state to stay away from any form of rally or display of party logo during the visit.
However, APC dared Umahi and waved broom to welcome Buhari.
Large crowd welcomes him
When he landed Enugu yesterday moring, President Buhari was received by over 5,000 persons who grounded Akanu Ibiam airport, in his first official visit to the zone since his assumption of office over two years ago.
The Presidential jet 5N-FGT, touched down at exactly 10:30 a.m. at the Akanu Ibiam International Airport, Enugu for the two-day working visit to Ebonyi and Anambra States.
Buhari, who came out of his jet at 10:42 a.m. was full of cheers as he  cheered thousands of Nigerians who came to welcome him.
The President, after a brief exchange with some governors of the zone, took some minutes of salute from a Presidential Guard-of-Honour mounted in his honour by a joint Army and Air Force personnel at the airport arena.
Later, Gov. Ifeanyi Ugwuanyi of Enugu State thanked the President for making a brief stop-over to greet Nigerians living in Enugu State.
He said: "I am overwhelmed with joy over the show of love and solidarity of Enugu residents to our admirable and loving President as he visits the South-East, which Enugu State is the capital."
Work at 2nd Niger Bridge has stopped— Ohanaeze
Meanwhile, President -General of Ohanaeze Ndigbo, Chief John Nnia Nwodo, yesterday, told President Buhari that work at Second Niger Bridge had stopped.
The Ohanaeze President also said the Akanu Ibiam International Airport, Enugu was under serious threat, while all infrastructure in the South-East geopolitical zone have gone bad.
Addressing the President on the myriads of problems facing the zone, which had contributed to the restiveness in the area, Nwodo said these problems predated the Buhari  administration but had  degenerated since the current government came into power.
According to him, "the Enugu-Port Harcourt road is in an extremely bad condition and tortuous to our people. The Ninth Mile-Oturkpo road is a car wreaker. The Aba-Ikot Ekpene road is largely unmotorable. Work on the Second Niger Bridge has stopped, while River Niger remains unnavigable due to the non implementation of the approved dredging contract.
"Our exit by air is also threatened and the poor state of Enugu international runway. A few days ago, Ethiopian Airline tyres were damaged as it was landing on that airport, threatening the lives of the passengers there.
"The terminal building and the cargo warehouse have also been abandoned. Our local industries and small scale enterprises are folding up not only due to the little allocation of revenue due to our state and local governments or  because of the marginalisation in the creation of local governments and states, but also because only nine percent of nationally generated power is allocated to the South-East.
"Gas reserves that abound in the South-East are being piped to Lagos and Northern Nigeria without any of it around the industrial clusters in our states.
"Unemployment, hunger and starvation pervade our land. This is a very dangerous environment for peace owing to wide spread dissatisfaction.
"These problems predated your administration but has reached a quintessence under your watch. We believe as a General trained to access dangerous circumstances and equipped with courage to confront them decisively, you will seize the opportunity to give our people the much needed assurance of a quick remedial action.
"Your Excellency, I have no doubts in my mind after our last discussions with you, that you will decisively and expeditiously address the many issues we presented to you , some of which I have highlighted today."
Also speaking, chairman of the Christian Association of Nigeria, CAN, Ebonyi State chapter, Very Rev. Fr. Abraham Nwali, said the Christian religious leaders in the country were praying for freedom for religious worship as was contained in the constitution.
The CAN chairman urged President Buhari to insist that, that provision of freedom of worship was kept.
Security arrangement by Police
Earlier, the Commissioner of Police in Enugu State, Mr Mohammed Danmallam, said the police had put adequate security arrangement for the brief hosting of the President in Enugu.
Danmallam said every necessary point and critical areas had been covered as well as movement highly monitored for effective policing within and outside the airport as well as the Enugu-Abakaliki road.
"I must thank other sister security agencies for the tremendous support and synergy to the police to achieve the success we are seeing here today," he noted.
Buhari, however, was airlifted in a Presidential chopper at exactly 11:05 enroute to Ebonyi State, where he  inaugurated some projects.
Govs in attendance
The South-East governors that received thePresident included; Govs. Ifeanyi Ugwuanyi, Enugu; Dave Umahi, Ebonyi; Okezie Ikpeazu,Abia and Rochas Okorocha Imo, while Gov. Yahaya Bello of Kogi State (North Central) came to the airport as well.
The ministers included; Minister of Foreign Affairs, Mr Godfrey Onyeama; Minister of Labour and Productivity, Sen. Chris Ngige; Minister of Trade and Investment, Dr Okechukwu Elenema; and Minister of State for Education, Prof. Anthony Anwuka.
The Security chiefs included; Maj.-Gen. Adamu Abubakar, General Officer Commanding (GOC), 82 Division of the Nigerian Army, Enugu; Air Vice Marshal Sampson Akpasa, Air Officer Commanding (AOC), Air Force Ground Training Command (GTC), Enugu;  the Commissioner of Police in Enugu State, Mr Mohammed Danmallam and the Commandant of Nigeria Security and Civil Defence Corps (NSCDC), Mr Steve Amoga.
Others are the National President of Ohaneze Ndigbo, Chief Nnia Nwodo; former Senate President, Chief Ken Nnamani; former Governor of Old Anambra State, Chief Jim Nwabodo; Speaker of Enugu State House of Assembly, Edward Ubosi, Amb. Lawrence Agubuzo, Chairman of Traditional Rulers' Council of Enugu State among others.