By Gabriel Olawale
Expert has decried the recent statistics released by World Health Organisation, WHO, which shows that Nigeria has the highest burden of unvaccinated children worldwide, saying "with the series of benefits derived from vaccination it's unacceptable for a country like Nigeria not to embrace vaccination against childhood killer diseases."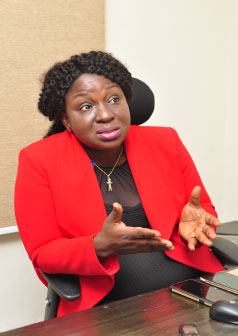 A new report published by WHO, had shown that Nigeria topped the list of countries with unvaccinated children from measles with 3.3 million children, followed by India – 2.9 million, Pakistan – 2.0 million, Indonesia – 1.2 million, Ethiopia – 0.9 million and Democratic Republic of Congo, DRC, with 0.7 million.
In an interview with Good Health Weekly, a Consultant Paediatrician, Dr. Olatomi Bamigboye who spoke extensively on the role of vaccination said it remains the cheapest form of immunization against childhood killer diseases.
"When you give a child a healthy start in life through vaccination, they carry this antibody and immune they have produced along with life. They may need booster doses along the way just to strengthen immunity and the cost to immunize a child are lower compared to treatment, mortality and death in most cases.
"When vaccine is administered to an individual, what you are trying to do is to create a similitude of that infection in the individual which prevent such an individual from having an active infection." she explained.
Speaking on this year's World Pneumonia Day celebrated globally on the 12th of November every year, Bamigboye who is also the Medical Director, Lagoon Hospital, Ikeja said infections such as pneumonia which settled in the lung and changes the way it functions can simply be prevented with vaccination early in life.
Dismissing misconceptions about vaccination, Bamigboye said the notion that vaccination weakens immune system was not true but rather strengthen it.  "Bacterial that causes pneumonia carries antigen and when you are expose to it, what antibody (vaccine) does is to mop-up those antigen in your system so that they cannot cause an infection.
"Vaccine is not once in a lifetime and the number of doses is age dependent. For children, currently in National Immunization Programme, we give BCG which is for tuberculosis, we have what we call pentavalent vaccine which is for diphtheria, tetanus, whooping cough, hepatitis B among others and we also have pneumococcal vaccine which has already been added to routine immunisation that are given to children and they have the number of doses they are to take, which is three dose (6 weeks, 10weeks and 14 weeks) and for adult a shot might be enough. We have oral polio and inject able, measles and yellow fever those are taken at infant stage.
"For adult, we have chickenpox vaccine, measles but most of this vaccine we emphasis it in childhood, because most of this issues are worse when it come to extreme of age. She explained that the extreme young and old people are prone to pneumonia and people with chronic illness such as sickle cell, asthmatic, people that undergo transplant among others. "When we fail to vaccinate the extreme young, it contributed to huge number of mortality and morbidity and remains a major contributor to under-five death.
"Vaccination gives opportunity of less children coming down with disease, reduction in health spending and under-five mortality. Another reason to  improve our vaccination coverage rate is because of antibiotic resistance incidence. Recently, we are having bacterial that are not responding well to available antibiotics. This means that we need to improve on vaccination so that we do not reach a stage where we are not going to have antibiotic that will help fight some of these bacterial because the organism are just responding.
On volume of vaccination a person should get, Bamigboye said there are no amounts of vaccine that can overload the immune system.  "The human body is exposed to so many organisms every day such as bacterial, virus, fungi among others and when we are exposed to those things the normal function of the body is to mount an immune response and produce anti body. So what vaccination does is to make the human body start producing those antibodies.
She noted that healthy lifestyle can never be alternative to vaccination.
"Yes, food is the first immunity but doesn't mean that if we are exposed to some of these infections they cannot be overpowering, so we recommend vaccination to complement healthy living.
"We also need to ensure proper information are disseminate to the public through appropriate means. The recent incidence in South East part of the country that the vaccine is the cause of monkeypox is not good for the development of this country. It may impact on immunization coverage to some extent."
Health worker should use every opportunity to address missed opportunities, somebody that suppose to have had the vaccine but did not, anytime such individual especially under five present at the health facility it is an opportunity for heath worker to ask about their immunization history, and if they have missed out in any, we recommend that they take it even before living the facility so that we can take care of all the missed opportunity we have.
Subscribe for latest Videos