By Johnbosco Agbakwuru
ABUJA—A teacher with the University of Abuja Secondary School, Mr. Solo Anuli Obiagwu, was on hunger strike for five days over the plight of staff school teachers in the university.
Obiagwu, who claimed he was being owed for 11 months by the university, said teachers in the staff school have been subjected to serious emotional trauma so he protested "victimisation of secondary school teachers at the University of Abuja Secondary School."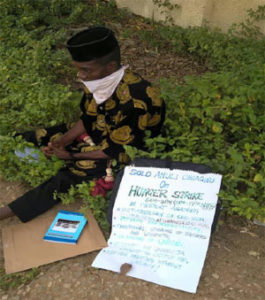 Also on the list of reasons are "impunity and insensitivity, emotional stabbing of teachers and students, silencing of unions and attempt by UniAbuja management to cripple me—11 months without salary."
The teacher, who sat in a bush within the duration of the exercise, refused to talk to anybody as he placed a board by his side, listing reasons for his action.
According to him, the hunger strike, 6a.m. to 4p.m. daily, began on November 13 and ended November 17.
Recall that the Senior Staff Association of Nigerian Universities, SSANU, had dragged the Federal Government to the National Industrial Court, NIC, for directing Vice Chancellors of universities to delete names of teachers in staff schools from the payroll, contrary to the 2009 agreement government entered into with the union.
However, in December last year, after a prolonged legal tussle, the Industrial Court gave judgement against the Federal Government and ordered that the teachers, who were disengaged by the Vice Chancellors, be reinstated.