By RevEREND Father John Damian Adizie, OCD
WHOEVER thinks that the era of violence against wo-men is over must be ignorant. Two weeks ago we travelled with one of our sisters for the burial of her late husband. She was blamed and even accused for the death of the husband. The poor widow was subjected to all forms of inhuman practices 'as the custom demands'.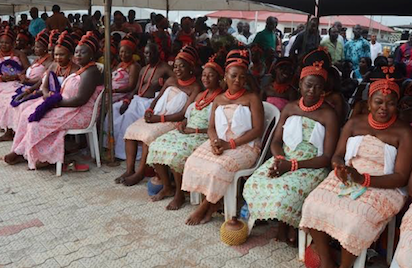 After the period of mourning, as she was about to travel back to the city, they insisted that she must not travel back with her vehicle. The vehicle, according to them, belongs to their late brother. They attacked the poor widow, broke the glass-es of the vehicle and punctured the tires. A good Samaritan rescued her life.
Could you believe that a man abandoned her wife and daughter in the hospi-tal just because the wife, according to him, was giv-ing birth to girls only. At the fourth pregnancy, the man warned the wife, saying, "If you give birth to another girl, you are going home with her." The woman went to several churches and praying centres, believing God for a male child but unfortunately she gave birth to another girl. As soon as the husband received the news he abandon-ed the woman tra-veled to an un-known place.
In rural areas women have no place among the council of elders, which is the high-est governing body in the soci-ety. Most elders usually meet on market days. Whereas a day before market day the woman usually go to farm to harvest cassava or other farm pro-ducts. The next day she will carry them to market for sale. She comes back exhausted, enters the kitchen and prepares food for the family.
Meanwhile the husband spends a whole day in a meeting where palm wine is a guest of honour. The woman will cook and serve the man. Any day she delays or challenges the man she will be forced to pay a goat. There is even an adage that says, "men are always right" or "women are the properties of men." They are free to marry more than one wife but it is an abomination for a woman to marry more than one hus-band.
With urbanization, most men have abandoned their wives and children in the village and have, either travelled to the cities or even outside the countries, for wealth. In some deve-loped countries women are not allowed to give birth to as many children as they want. In the name of birth control most women's womb and reproductive organs have been destroyed without their consent. Wo-men have no legal right over their children. Some mothers have been impri-soned just because they dis-ciplined their children. When it comes to politics, gender equality is still an issue.
Violence against women is the most cruel form of injustices and oppression against humanity. Women are not only considered as weaker sex, they are also treated as object of enter-tainment and sexual grati-fication. Their weakness and vulnerability has given rise to all forms of abuses and even violence against their rights and dignity. In fact, violence against wo-men is barbaric!
In an attempt to address the problem of Violence against Women, the United Nations has declared Nov-ember 25 as International Day for the Elimination of Violence against Women. This shows that violence against women is a global phenomenon. According to Kofi Annan, "Violence ag-ainst women is perhaps the most shameful human rights violation, and it is perhaps the most pervasive." For him, It is not just peculiar to Africa. It knows no bound-aries of geography, culture or wealth. As long as it continues, we cannot claim to be making real progress towards equality, develop-ment and peace." Such vio-lence is among the factors that affect human and na-tional development.
At this juncture, I would like to commend the United Nations for taking the bull by the horn to, at least, create awareness of mod-ern forms of violence aga-inst women. I wish other count-ries and communities across the world could key into this noble crusade. Incidentally, the theme of this year's 2017 Interna-tional Day for the Elimi-nation of Violence against Women is "Leave no one be-hind: end violence against women and girls." Every-body must be carried al-ong, including women and girls.
Just as St. Paul wrote: "There is neither Jew nor Greek, there is neither slave nor free, there is ne-ither male nor female; for you are all one in Christ Jesus." (Galatians 3:28). With this, every form of violence against women is not just inhuman it is also a sin against the Most High God. We are saying no to female genital mutilation, no to widow inheritance, no to female trafficking, no to early marriage and no to all kinds of girl-child abuses. May God protect our girls and our women in Jesus name. Amen!