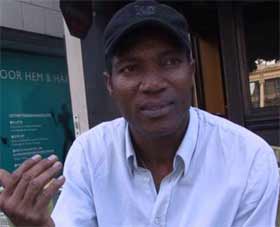 Peter Rufai
Former Nigeria international, Peter Rufai has raised an alarm over his encounter with some security officials of the American Embassy in Lagos last week.
According to the former Nigeria goalkeeper, he was returning from a party organised by a family member in the early hours of Tuesday, October 24 when he drove past a stationary American Embassy armoured SUV near Alaka bus stop, in Surulere area of Lagos.
The moment I drove past them, they started pursuing me, from Alaka I went through under the stadium bridge through Adeniran Ogunsanya then to the Bode Thomas Police station where I stopped for my safety and to lay a complaint.
"As they were pursuing me, they kept bashing the side of my car, like what we see in the movies. I became afraid of my life because I did not know who the occupants were."
"I want them to be punished for them to know that what they did was wrong,"Rufai said.
According to police sources, the American Embassy officials accused Rufai of brushing them and when they flagged him down, he failed to stop. "That resulted in the chase." the source said.
The Public Relations Officer of the Bode Thomas Police Station. Olaride Famous Cole confirmed the incident to Vanguard saying, "there was a minor traffic matter involving Peter Rufai and officials of the Embassy but the Divisional Police Officer was ready to settle the two parties amicably.