By Muoka Lazarus
I Chronicles 16:34 says, "O give thanks unto the Lord, for He is good, for His mercy endureth forever."
Mercy is undeserved leniency, compassion or kindness shown by God to wicked sinners. It is an attribute of God that distinguish-es Him from other beings and it is through it that we can escape the judgment of God even when we are doomed to suffer forever. God is so merciful that any time we approach Him for mercy He withholds not His mercy from us regardless of the degree of iniquity we have committed.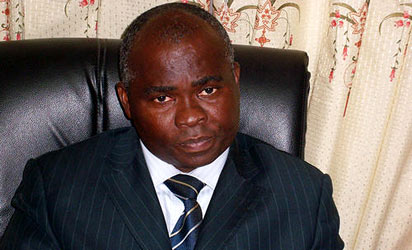 His mercy is always available for everyone that seeks for it. We all should desire the mercy of God because we have by act of omission or commission derailed from seeking His kingdom and righteousness, and as a result is expected to surfer the resultant implication except mercy is granted to us. His mercy endures for us because of His special love for us, and on this base He advertises His mercy today so that as many as are ignorant of this attribute of Him should use this medium to apply for mercy.
Brethren, if you have been going through terrible situation for a very long time and have done everything humanly possible to overcome the challenges to no avail or nothing seems to be working properly for you as the situation may suggest now, and thus fear appears to have gripped you, and you therefore assumed that judgment and its effect are looming over you as a result of your past evil. Moreover when you look back to remember the terrible thing you have done in the past it pricks your heart and you conclude that God is not happy with you.
Thus, you are not sure of the future and sorrow has becomes the order of the day, I want you to understand that the only option out of this quagmire situation is the mercy of God. If the affliction tormenting you now has defied all known medication, and you have tried prayers to no avail, I counsel you to pause now, examine yourself and ask for the mercy of God. God is advertising His mercy and you cannot afford to ignore it to your peril.
Numbers 14:2, 19-20: "And all the children of Israel murmured against Moses and against Aaron: and the whole congregation said unto them, Would God that we had died in the land of Egypt! Or would God we had died in this wilderness…And Moses said unto the LORD, pardon, I beseech thee, the iniquity of this people according unto the greatness of thy mercy, and as thou hast forgiven this people, from Egypt even until now. And the LORD said, I have pardoned according to thy word:"
Many people offended God in the Bible days and as a result came under the judgment of God. The Israelites had such cases severally in the wilderness when they murmured against God but the consequential judgments were averted when Moses pleaded for mercy.
The Israelites' spiritual and moral weaknesses have on many occasions drawn the wrath of God from the time they left the land of Egypt but at those times the Lord dealt with them on the basis of mercy whenever Moses pleaded with Him to show mercy based on His advertised mercy, and at those junctions the Lord would always say, 'I have pardoned according to your word'.
I do not know what you have done or are doing that are provoking God to wrath and God had allowed circumstances to trouble you all these while and people are mocking and neglecting you. If you can boldly come on the throne of His grace today and ask for mercy, it shall be granted to you and the Lord will forgive you and cancel the judgment in Jesus name. The mercy of God in Christ is the only ground of hope for lost and guilty men. On this they should depend, while they glory in Him as their righteousness and strength. If one ignore the mercy of God, the Lord will not have option than to allow him perish.
In one of the occasions the Israelites turned against God to worship idols, God delivered them into the hands of their enemies who oppressed them for eight years until they groaned for the mercy of God and God pardoned and rescued them from the hands of their enemies.
Judges 4:1-3 states, "And the children of Israel again did evil in the sight of the LORD, when Ehud was dead. And the LORD sold them into the hand of Jabin king of Canaan, that reigned in Hazor; the captain of whose host was Sisera, which dwelt in Harosheth of the Gentiles. And the children of Israel cried unto the LORD: for he had nine hundred chariots of iron; and twenty years he mightily oppressed the children of Israel"
When Ehud died, the Israelites who could not maintain consistent faithfulness with the Lord sinned again against God and were sold into captivity as punishment in the hands of Jabin king of Canaan for twenty years. When a man's life is character-ized with failure for twenty years, it means his creator is not happy with him. If your case is like that, all you need to do is to present your matter today to the Lord, ask for His mercy in prayers and the mercy of the Lord which rejoices over judgment, will address your situations in Jesus name.
If you're asking why evil has is befalling you, what you need is the mercy of God by crying out in prayers to God to show you mercy. When the people of Nineveh repented of their sin the Lord had mercy on them and the punishment meted against them was averted, likewise when Jonah repented in the belly of fish and asked for the mercy, the Lord showed him mercy and caused the fish to vomit him to the dry land.
Jonah 2: 1-2,4, 7-9 states, "Then Jonah prayed unto the LORD his God out of the fish's belly, 2 And said, I cried by reason of mine affliction unto the LORD, and he heard me; out of the belly of hell cried I, and thou heardest my voice…. 4 Then I said, I am cast out of thy sight; yet I will look again toward thy holy temple… 7 When my soul fainted within me I remembered the LORD: and my prayer came in unto thee, into thine holy temple. 8 They that observe lying vanities forsake their own mercy. 9 But I will sacrifice unto thee with the voice of thanksgiving; I will pay that that I have vowed. Salvation is of the LORD. 10 ¶ And the LORD spake unto the fish, and it vomited out Jonah upon the dry land"
When Jonah disobeyed the Lord, God allowed the fish to swallow him, and when he cried for mercy from the belly of the fish, God spoke to the fish to vomit him. If God turned His back on you it is because you have sinned, therefore, if you can repent, remember and ask for mercy today, I am assuring you, mercy shall be granted unto you.