By Ifeanyi Okolie
Justice seems to be coming the way of relatives of a 35-year-old man, Tajudeen Raji, who was murdered by a gang of unknown assailants and dumped his body in front of the Yaba College of Technology, Lagos, on September 2015, as the police has commenced a fresh investigation into case.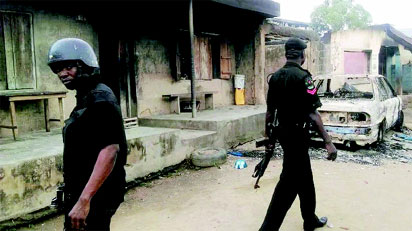 Two suspects, Saheed Missouri, alias Militant and Ogunsemilore Ileri, who were alleged to have played active roles in the murder, were being questioned by operatives of the Zonal Intervention Squad, ZIS, at the Zone 2 Police Command, Onikan.
Vanguard gathered that the ZIS operatives, were attracted to the case, two years after it was abandoned, when they found fresh clues linking Missouri, Ileri and five others to the murder, after they raided the Yaba-Jibowu Branch office of the National Union of Road Transport Workers, NURTW and recovered two pistols, 20 live cartridges, 30 9mm ammunitions, and one Ak-47 magazine.
A personal assistant to the NURTW Chairman of that branch, Tope Ogunkolade, was arrested by the operatives after the raid and he confessed that the arms and ammunition which were recovered belonged to his boss, Oluwafemi Akinboyeku, alias Femi Jplum, who he said was out of the country at that time.
Police sources disclosed that while, Ogunkolade, was being interrogated, the ZIS received an intelligence report that Ogunkolade and his boss, had information that could help them solve the September 2015, murder of Tajudeen Raji, who was also known as Orji.   It was alleged that when Ogunkolade was interrogated he disclosed that late Orji and his boss had a quarrel at that time, but he could not confirm if his boss had a hand in his death.   He was said to have disclosed that he learned that Orji's death was cult related.
According to the source, "he told us that Orji had    issues with some of his co-cult members in Abule area in Bariga, Lagos with whom he also fought and believed those members must have killed him due to their rivalry.  He then gave us the names of those boys who he said took part in the killing and we've succeeded in arresting two of them.
But from the intelligence report we gathered, we learned that Orji was with some of his friends on the night he was killed and he received a call from someone who told him to come to Abule for a peace talk with Femi Jplum and he went there with one of his friends.   He was later killed and his body dumped at Yabatech while his friend who was with him, was also killed two weeks afterwards".
Meanwhile, a relative of the victim, Mrs Muyinatu Adisa,  has urged the Assistant Inspector General of Police in charge-of- Zone 2 Command, Ibrahim Adamu, to ensure that her brother's killers were prosecuted. Mrs Adisa who is married with four children, told Vanguard that her family has been unable to get justice over the gruesome killing of their brother.