Looking back after over four decades, a plausible case can be made that Gen. Yakubu Gowon's conciliatory "No victor,  no vanquished" pronouncement when Biafra surrendered was largely insincere because his words were not backed by adequate concrete actions to help easterners recover from their devastating losses.
I have already highlighted some of the cruel measures taken by his government to further asphyxiate the crippled Igbo economy in particular, which indicates that there was indeed a victor and a vanquished. Nevertheless, to convince a broad section of the international community increasingly critical of the horrendous atrocities committed against easterners by the Nigerian army that he was serious about rebuilding the defunct Biafra, Gowon launched an elaborate scheme tagged the three Rs, meaning Reconstruction, Rehabilitation and Reconciliation.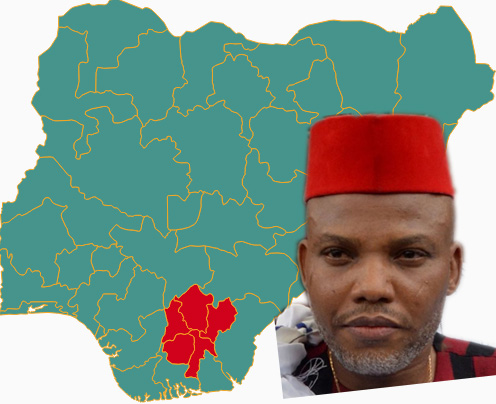 The scheme was modelled after America's Marshal Plan for the reconstruction of Europe after the Second World War ended in 1945. But the Nigerian government was not really keen to implement the three Rs. For example, Mr. Ukpabi Asike, the administrator of East Central state, announced that the state needed about five hundred million pounds to complete the reconstruction effort. But hardliners in Gowon's government who wanted Ndigbo to suffer maximally for the war ensured that only a tiny fraction of the estimate was released, and very reluctantly too.
Over the years Gowon, in books written about him and during interviews by journalsists, tried to exculpate himself and his gang of caliphate colonialists from moral responsibility concerning genocide and deliberate destruction of Biafra.
He even launched a programme called Nigeria Prays, which, as the name implies, focuses on seeking divine help for the unity and progress of Nigeria. At first sight, and given that Nigeria is a religion-intoxicated country, Nigeria Prays is an innocuous response to the intractable problems hindering the evolution of a truly civilised and viable Nigerian nation.
On a deeper level, however, the programme is a tendentious attempt at self-justification and psychotherapy. From time to time, Gowon must have been troubled by the atrocities he and the military wing of caliphate colonialism committed against Biafrans, and he needed to find a seemingly harmless way of mitigating the admixture of guilt and remorse. Unfortunately, Gowon is going about it the wrong way by trivialising the Biafran phenomenon through distortion of facts, thereby denying himself the healing power of truth.
In my opinion, Gowon is so fixated with the caliphate myopic vision of Nigerian unity that he fails to recognise that genuine national unity cannot be achieved by injustice, threats, intimidation and force. Besides, by blaming Gen. Chukwuemeka Odumegwu-Ojukwu for the Biafran conflict and aligning himself with those projecting the incendiary false claim that IPOB's current agitation for the creation of Biafra would inevitably lead to another civil war, Gen. Gowon seems to have learnt nothing from history, even in his old age. If the former head of state really wants psychological and spiritual healing, he should take seriously Usman Dan Fodio's assertion that "Conscience is an open wound; only truth can heal it."
By scapegoating Ojukwu who is diseased and cannot respond, Gowon is manifesting a degree of pettiness unbecoming of a man of his age and exposure. Now in his eighties, Gowon must not shy away from inconvenient truths. He must use the remaining time he has left to do good by alerting those in power of the dangers inherent in forced unity based on injustice and brute force.
Better still, he can engage in community service in the areas devastated during the war. Falsely blaming the dead and refusing to acknowledge that the war he led against Biafra was a monumental disaster all round cannot help him achieve closure and rectitude for what happened between July 6, 1967 and January 14, 1970.
In furtherance of Sir Ahmadu Bello's atavistic vision that the south should be treated as a conquered territory by caliphate colonialists, the northern dominated central governments from 1970 to 1999 largely denied Igboland its fair share of developmental projects. It is a notorious fact that federal presence in Igbo heartland can be seen mostly in the form of prisons, police stations, numerous customs checkpoints and other indices of a conquered territory that must be kept in check to avoid rebellion. Consequently, the south-east holds the unenviable record of having both the lowest number of federal projects and the most neglected geopolitical zone in the country right now.
Throughout history, imperialists and colonialists have adopted the strategy of divide and rule to fragment their victims and disempower them. The federal military government applied the same strategy against the Igbo and their immediate neighbours during and after the civil war. Gowon started the balkanisation process by creating three states out of the eastern region.
As a result Port-Harcourt, an aboriginal Igbo town known as Obumotu or Ugwuocha by its original Igbo inhabitants, was named the capital of Rivers State. Further attempts to drastically reduce the size of Igbo nation both territorially and demographically include the ceding of Obigbo, Ikwerre and other Igbo communities to Rivers state. Igbanke, which was originally an Igbo settlement called Igbo Akiri, is now part of Edo state.
The point can be generalised: northern military dictators beginning with Gowon deliberately annexed Igbo territories, especially oil-bearing ones, to non-Igbo speaking states as a way of punishing Ndigbo. The overarching aim of what might be called "deigbonisation policy" was to weaken Ndigbo territorially, demographically and economically in order to subjugate and prevent the people from ever rising again to seek independence.
Gowon's deigbonisation agenda were given pseudo procedural backing by the Justice Mamman Nasir's boundary adjustment committee. Another evidence of deliberate post-civil war injustice against Ndigbo was the knotty abandoned property issue, which projected late Chief Sam Mbakwe to national limelight as a valiant fighter for the dispossessed. Gen. Gowon set up a committee headed by Maj. David Mark, now a prominent senator, to handle the matter on behalf of the federal government.
Gowon claims, in an interview with Pini Jason, that his government tried to minimise the injustice done to the Igbo. Yet, as he frankly admitted, after he left office many Igbo were deliberately prevented from returning to their businesses and reclaiming their property. To justify the unjust takeover of property in Rivers state abandoned during the war by Ndigbo, the governor, Navy Commander Alfred Diete-Spiff, claimed that his people were like tenants in their own state.
Thus, for him the best way to deal with the situation was confiscation of some abandoned property by government and tacit endorsement of the takeover of others by non-Igbo indigenes of the state. From the foregoing, it is clear that Nigerians not only destroyed Igboland, they also despoiled the Igbo by seizing their property.
Till date, a significant percentage of Ndigbo, aside from the prodigal sons and daughters of Igboland who benefitted or are still benefitting from the unjust Nigerian system, believe that Igboland is still being punished by northern caliphate colonialists and their factotums in the south for the Biafran war. The palpable feeling of marginalisation, exclusion and lack of sense of belonging have compelled Igbo youths to resurrect agitations for a separate country for Ndigbo.
Separatist organisations like Movement for the Actualisation of the Sovereign State of Biafra (MASSOB) and the Indigenous Peoples of Biafra (IPOB) are largely the products of deliberate policy of exclusion and marginalisation by caliphate colonialists, aided and abetted by abject Ndigbo who are content with picking crumbs that fell from their masters' table. The recent resurgence of separatist agitations in Igboland led by Nnamdi Kanu is a serious indictment of the All Progressives Congress (APC) headed by President Muhammadu Buhari. Irrespective of the shibboleths about Buhari being a patriot who is determined to bring about meaningful change through selfless service to the entire country, the fact is that the President might end up being the most divisive Nigerian leader since independence. To be candid, there is an abiding anti-Igbo disposition in President Buhari's attitude to public service. It is that very attitude, encapsulated in his extremely insensitive inequality of 97% versus 5% remark, which bolstered the current agitation by IPOB. For President Buhari, the Igbo do not have a right to self-determination: Ndigbo must be subdued by force again if they insist on creating a sovereign country of their own. It is remarkable that Buhari, a man dressed up by his bootlickers as a "converted democrat," strongly believes that the right to self-determination can be obliterated by jackboot methods, by intimidation and threats of violence.
The President, while condemning IPOB, claims that majority of the youths agitating for Biafra were not yet born during the war and did not witness directly its horrifying consequences. But what has that got to do with anything?
To be sure, the demand by IPOB for a referendum to determine whether the Igbo want Biafra or to remain part of Nigeria is definitely not a call for violence or another civil war, as Buhari and Buharimaniacs are insinuating. Indeed, the insistence on referendum is a civilised approach to the issue at stake. Therefore, demonising Kanu and his cohorts by pretending that the request for referendum is an invitation to armed conflict is a case of calling a dog a bad name in order to hang it.
Again, the unstated presumption that those who were not born when the war took place or experienced its hardships directly should not agitate for Biafra shows lack of historical imagination and vision. Any adult appalled by the plight of Ndigbo in Nigeria, can, through historical research, critical reflection, and emphatic imagination domesticate the phenomenon of Biafra in his or her mind.
By the psychological mechanisms of transference, someone who did not witness the Biafran war either because he was too young to understand what was happening at the time or was born after the war – or even a foreigner unconnected in any way with the conflict – can through historical imagination based on research, be so connected vividly or attuned mentally to the Biafran phenomenon as if he was involved in it.
Consider this: On May 30, 1969, an American, Bruce Mayrock, a part-time student of General Studies at Columbia University, who neither visited Biafra nor was related to any Biafran, set himself ablaze in the lawn of the United Nations to protest the genocide Nigerian government was committing against Biafrans. To be concluded.