The former National Chairman of the Peoples Democratic Party and a statutory delegate to the December 9, National Convention, Chief Vincent Ogbulafor has made it clear that his vote will be going to a front-line aspirant in the race, Otunba Gbenga Daniel.
Chief Ogbulafor made this declaration at his country home of Olokoro in Umuahia, Abia State on Wednesday when Otunba Daniel paid him a courtesy call.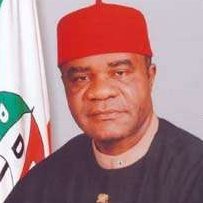 According to Ogbulafor, "Gbenga Daniel is the right person for the position (National Chairman) if PDP is to take over power.  I was the National Chairman of the party for three years and I know the demands.
"Daniel, you are a real party man, please keep the flag flying. You know where the mistake of PDP is and you can provide solution.
"I support you on this quest and I am sure you will get it.  You have my vote, you have my vote.  I will give you my vote," he said.
Meanwhile, the Chairman, South East Council of Traditional Rulers, Eze Cletus Ilomuanya, the Obi of Obinugwu has described Otunba Daniel as a portrait of humility and the most competent individual to lead the Peoples Democratic Party.
The Obi made this remark while praying for Daniel to succeed in his quest to become the National Chairman of the PDP.
In his words, "Otunba Daniel is a true son of the soil and a Chief in this Palace. We have no choice but to support him.
"I have known him for several years and I can assure you that he is more than qualified to provide the leadership the PDP needs now.
"He has my blessing and that of the entire Kingdom.