Tribute by Godwin Oghre
As Delta state All Progressives Congress (APC)'s Olorogun O'tega Emerhor celebrates today, Saturday 25th  November  2017 with family members, friends, political associates and well wishers, on his sixtieth birth day, one can look back into the life of this rare genius, a political colossus of modern Nigerian and a man filled with the milk of human sympathy.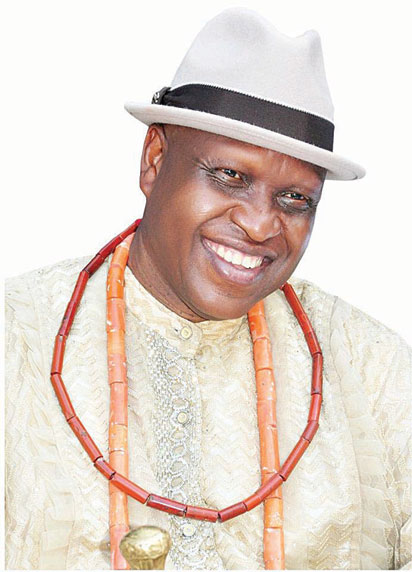 O'tega, is a house hold name in different spheres of human endeavor. He is indeed, one of the best gifts bestowed on the Urhobo nation, all Deltans and, indeed, Nigerians in general. He is one of the very few Nigerians who are using their hard earned resources for the emancipation of the common man and he has earned love from Deltans and across ethnic and political divides.
One of the striking qualities of O'tega is that he is humble to a fault. He picks calls and replies texts, even if they appear puerile. His heart is open and he says his mind no matter whose ox is gored.
Some  other persons who have also argued that O'tega is a blessing and have paid glowing tributes to him include Chief Cyril Ogodo and Chief Felix Anirah, who said he came to salvage the common man from the doldrums of impoverishment and enslavement.
Olorogun Oghenetega, abbreviated to O'tega Emerhor, was born in Evwreni  60 years ago, on the 25th of November 1957.  His parents nudged him on to the path of western education and enrolled him at the CMS Primary School, now Mariere Primary School in his native Evwreni. The young O'tega was a child prodigy whose academic ability at school astonished both teachers and pupils.
After primary school, he proceeded to Ewu Grammar School in Ewu since there was no secondary school in Evreni then. If his academic brilliance in primary school was outstanding, his performance in secondary school was exceptional. Suffice to say that he finished in Division One in the West African School Certificate Examination which was a rarity in such rural schools that were deficient in quality teachers and learning infrastructure.
O'tega entered the University of Nigeria, Nsukka to read Accountancy in 1979. His distinctive academic exploits stood him out in the Faculty of Business Administration as he was decorated as a Federal Government Scholar. When he graduated in 1983 he not only did so with a First Class Honors degree, but as the best graduating student in the entire Faculty. On graduation day that year, the Evwreni boy stood shoulders and head taller than all his contemporaries as best graduating student.
Five times the name O'tega Emerhor was called and five times he stepped forward and mounted the rostrum to collect five academic prizes which included: Faculty price for Best Student, Lever Brothers' Prize for Best Graduating Student, Dr. C.C. Abebe Prize for Best Student and Sir Odumegwu's Prize for Best Student.
After graduation O'tega  became one of the golden boys in the banking sector. But that was after learning the ropes and qualifying as a Chartered Accountant with the world acclaim firm, Price Waterhouse Cooper, in 1986. He became a much sought after banker and  enjoyed a rapid upward professional mobility in Nigeria's banking history from Citibank Nigeria (then NIB), to Fidelity Bank, Guaranty Trust Bank, Crystal Bank (later Standard Trust Bank) and now UBA, where he became pioneer Managing Director up till 1995.
O'tega stood out among those brilliant and articulate young men who became Managing Directors of leading Nigeria banks in their 30s. In fact a leading Nigerian news magazine named him "Mr. Finance". What made O'tega's story a classic was the reality that he was coming from a background that lacked family economic support which most of his high flying contemporaries in the banking world enjoyed. O'tega made his mark through dint of hard work complimented by his highly acclaimed cerebral endowment.
O'tega Emerhor did not limit his learning process to Nigeria. He undertook courses in prestigious management institutes abroad especially in the United Kingdom and Switzerland where he got inducted into world best financial cum business practices. In 1998 he led a team of investors to revive the then ailing Comet Merchant Bank and rechristened it First Atlantic Bank Plc. This incident opened a new chapter in O'tega's career as a turn-around guru. The new bank recorded dizzying successes and many other banks and corporate entities at a dead end sought his expert opinion on how to revive their enterprises.
He generously gave his golden advice which became antidote to failure. When it became imperative to reinvent First Atlantic it was O'tega Emerhor who led the way and it became First Inland Bank. He became its Vice Chairman before he resigned his membership in 2012.
O'tega's legendary business acumen bestrides different strata of the Nigerian economy. He is a known figure in the insurance Company. As a credit to his turn-around expertise he led others to acquire Jubilee Insurance Company, resuscitated it and rechristened it Standard Alliance Insurance. Today, the firm represents the face of insurance not just in Nigeria, but in Africa. This was attested to by EUROMONEY one of the world's authoritative business magazines which declared that O'tega Emerhor was "changing the face of insurance in Africa."
O'tega Emerhor is an eminent board room personality as he functions as the Group Chief Executive Officer of Standard Alliance Group made up of Standard Alliance Insurance Plc, Standard Alliance Pension Ltd, Standard Alliance Mortgage Ltd, and Standard Alliance Properties Ltd.
As a major player in the Nigerian economy Emerhor had been the Vice President of the Nigerian Chamber of Shipping and now has the rare privilege of being the Chairman of the Boards of Transcorp Hilton and Metropolitan Chamber. He is also a director on the Boards of numerous blue chip companies in Nigeria.
Emerhor who rub shoulders with leading economic players on the African continent and beyond occupies a front row at the African Business Leadership Forum.  He is a Fellow of the Institutes of Credit and Risk Management of Nigeria; Academy of Entrepreneurial Studies and Institutes of Marketing Consultants, among others.
O'tega Emerhor is a recipient of many honors and awards including the Officer of the Order of the Niger (OON), the Kwame Nkrumah Leadership Award, the Midwest Personality of the year Award and many more. Back home Emerhor has contributed immensely to the advancement of his people across the length and breadth of Urhobo land and Delta State.
He is a major employer of labour just as he has helped to finance the education of many Urhobo youths. When his Evwreni town was engulfed in crisis some years ago he stood to be counted among those who tirelessly worked to restore peace to the community. For this, he was conferred with a chieftaincy title of URHUKPE (light) of Evwreni and he became an Olorogun.
Olorogun Emerhor's antecedent has shown that his propensity to be a light bearer goes beyond Evwreni. When Urhobo Progressive Union (UPU) wanted to build an Ultra Modern Cultural Centre at Uvwiamughe-Agbarho he was one of the two highest donors who ensured that the dream became a reality. As a mark of recognition of his integrity and commitment to Urhobo course the UPU made him the Chairman of the Board of Special Fund Management for the development of the Urhobo nation.
Olorogun Emerhor is patron of many Urhobo socio-cultural associations and has contributed immensely to the cause of Urhobo nation. However he has been very self-effacing about his accomplishments.  Many keen observers of Olorogun O'tega Emerhor consider him as a redemptive figure ordained by providence to accomplish the unfinished redemptive task of two legendary Urhobo nationalists who also hailed from Evwreni.
These were Chief Mukoro Mowoe who held the light for Urhobo people to see the way during the era of Nigerian nationalism and Chief Samuel Jereton Mariere first Governor of the defunct Midwest who led the Urhobo through the turbulent 1960s. Mowoe died in 1948 while Mariere passed on in 1971. It is not by accident that he hails from same Evwreni as the duo.
Olorogun O'tega Emerhor is happily married to former Miss Rita Itefue now Chief (Mrs) Rita Emerhor, the ERUVWU (beauty) of Evwreni and the union is blessed with children.