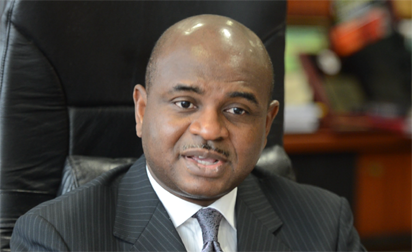 Kingsley Moghalu
By Prince Okafor
Despite effort by the current administration to diversify the nation's economy, a former Deputy Governor of the Central Bank of Nigeria, CBN, Mr. Kingsley Moghalu, has urged the Federal Government to partially privatize the Nigerian National Petroleum Corporation, NNPC.
This is even as he said that, 60 percent of government revenues have being spent on servicing national debt. In his keynote address at the 5th  Goddy Jidenma Foundation, GJF, public lecture, tittled: "The Challenge of Economic Growth in Nigeria"  in Lagos, Moghalu said: "Nigeria's poverty rate is 62 per cent. Our national debt is increasing, and we now spend more than 60 percent of government revenues serving the national debt.
"This plan, akin to the Saudi Arabian government's economic diversification plan, should include a clear strategy with interlinked policies, trade, industrial, fiscal and far reaching structural and governance reforms of the NNPC that could include partial privatization, with share listed on the stock exchange for purchase by ordinary Nigerians and not government related cronies.
"In doing so, the interest of local communities in the oil producing regions must be protected by ensuring a set aside in private ownership of the NNPC by members of the communities in the region."
Moghalu who is the Founder and President, Institute for Governance and Economic Transformation stated that, "Roughly 200 million persons in the world are jobless, and most of them are young men and women in developing countries such as Nigeria. That 30 million out of these 200 million people are in Nigeria – roughly 15percent of the world's jobless – is a staggering fact with important consequences for Nigeria's future.
"When we consider that Nigeria's population is projected to double by 2050, the implications of millions of young people entering the job market without a radical success in job-creation in Nigeria becomes clearer.
"The first insight is to understand that governments by themselves do not create jobs in today's world dominated by private sector-led economic activities. The private sector does. Government creates the conditions for job growth through sound economic policy.
"The second insight is that, for a country like Nigeria, job-creation cannot be addressed in isolation of the wider macroeconomic environment which is a product of economic policy.
"The key to creating jobs is to ensure the constant increase in productivity across broad areas of the economy. Some aspects of the economy, such as manufacturing and agriculture, as well as entrepreneurship, and the IT industry, can by their nature create more jobs than others such as the petroleum exploration industry, for example.