By Theodore Opara
HYUNDAI has remodeled the midsized Sonata family sedan with a long list of standard and accessible features, integrating a perfect mix of excellent fuel economy and mileage; rare blend of comfort, cavernous trunk and unprecedented cabin space that could arguably be the most impressive in its class yet.
Assembled locally at the Hyundai Motors Nigeria Limited plant in Lagos, the 2018 Sonata comes equipped with numerous other niceties such as the proximity key with push-button start, power driver's seat as well as shiftronic gear system with courtesy door lamps.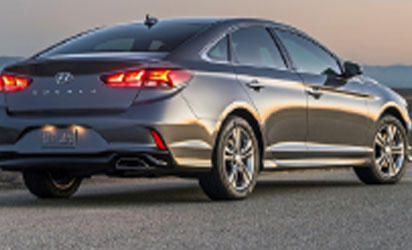 The Sonata is available in Nigeria in 2.0 and 2.4 litre engine variants. Standard features on both models include front wheel drive, a rear lip spoiler, cruise control, full power accessories, tilt-and-telescoping steering wheel, automatic control/rear air-conditioning vents, luxury leather seats and a 60/40 split-folding seatback.
Technology features, however, include Bluetooth connectivity, a CD player, radio, automatic headlights, rearview camera, a five-inch LCD display, USB port and an auxiliary audio input and Hyundai Security System.
While both variants are powered by a four-cylinder engine; the 2.0-Litrr variant is mated to a 157ps @ 6200rpm while the 2.4-Litre is fused to a 171ps @ 6000rpm. Both models are, however, paired to a six-speed automatic transmission that raises the EPA fuel economy numbers to 23mpg highway from 22/31mpg.
The SE 2.0-litre model comes with a 17" alloy wheels while the SE 2.4-Liter seats on 18" alloy wheels. The Sonata comes with unbeatable price in the D-car segment. The 2.0 is priced N13 million while the 2.4 litre version cost N14 million.
Hyundai also equipped the new Sonata with rear parking sensors/back warning camera, engine immobilizer and perceptible front grill among others.
Described as a comprehensive makeover of its predecessor that somewhat didn't see any major changes since 2015, the face-lifted Sonata is an adept family hauler that expresses proficient and distinctive gaze that could entice upwardly mobile executives and well-heeled officials as well as anyone with an eye for specifics.
Suffice to say, there are indeed, no dull moments with the new Sonata, given the so much likes in the stylish sedan that sits five passengers over long distances with an adaptable room to stretch even when stuck in traffic. The Korean automaker says "it is enhancing the Sonata's package with better value proposition to keep it fresh against increasing competent rivals."
Hyundai Motors Nigeria Head of Sales and Marketing, Gaurav Vashisht, acknowledged the automaker's perspective when he told local media at the launch of the new Sonata that almost every exterior element of the car has been reworked, beginning from the forward A-pillars.
"Unlike its predecessor, the front end of the car for instance, has become more muscular, blending with Hyundai's new cascading grille design with an aggressive lower facia, new headlights and a reshaped hood," Mr. Vashisht explained.
He said Hyundai has also thoroughly reworked the rear side, which now incorporates new trunked-lid, taillights and rear bumper with a marginally adapted interior that plagiarizes high-end cars' centre stack though retaining its intuitive layout knobs and controls of higher quality feel and a new three-spoke steering wheel.
"When it comes to delivering everything you would expect from a midsize family sedan, the 2018 Hyundai Sonata does not disappoint. It has a spacious interior with worthy seats and a long list of standard features and well-laid out controls that reassures on smooth ride," the HMNL sales and marketing helmsman affirmed.
Interior
Hyundai in its typical interior design precision leaves no one in doubt as it ingeniously detailed the Sonata's cabin. The materials and build quality for instance are at par with the class, donning plusher door trim, well-padded and supportive leather seats with additional cabin accents for a more premium feel.
Also noticeably remarkable and appealing is the vast backseat that can simultaneously ferry the kids, their play mates and adult friends, yet reassuring on excellent smooth drive devoid of hauling a huge sedan-like car on the highway.
What's more, the logical layout and controls with a five-inch standard touch screen is large enough to avoid undue distractions while in motion.
And above all, the 16.3 cubic feet cavernous trunk (boot) is huge enough to add more cargo capacity should the need arise. Indeed, the Sonata offers plenty of features for your money.
Safety
Standard safety features include antilock disc brakes, traction and stability control, front-seat airbags, central locking and keyless entry with Hyundai Security System.
In government crash testing, the Sonata earned a perfect five-star overall rating, with five stars overall for its performance in frontal and side-impact crash tests. And in crash testing conducted by the Insurance Institute for Highway Safety (IIHS), the Sonata earned the top rating of "Good" in the moderate-overlap frontal-offset impact test and a second-best "Acceptable" in the small-overlap frontal-offset impact test. The Sonata however posted a "Good" rating for the remaining side-impact, roof-strength and whiplash protection (seats and head restraints) tests.
Verdicts
Renowned automotive resource establishments such as Edmunds had in one of its recent observations remarked that though Crossover SUVs have become a new family vehicle of choice, the midsize Sonata is an excellent sedan that earned its 'A' rating upon its redesign in 2015 and still holds today.
J.D. Power Associates similarly awarded the Sonata, Winner 2017 Best Midsize Car for the money and Finalist, 2017 Best Midsize car for families.
"The Hyundai Sonata is indeed a good car. It's one of our highest-ranking midsize cars because it has many strengths and few, if any, substantial weaknesses. The Sonata has a smooth ride and two rows of roomy seats. There are plenty of standard and available features, and the infotainment system is easy to use. The Sonata has a large trunk as well, and it's backed by one of the longest warranties on the market," J.D. Power and Associates remarked
Hyundai may consider the new Sonata its best yet with sales expected to climb higher up the charts, the car could in the foreseeable feature be pitched against arch rivals Honda Accord, Toyota Camry, Ford Fusion, Mazda 6 and Nissan Altima or so it seems.