By RevEREND Father John Damian Adizie, OCD
Last week's question, "Where are the Nigerian Youths?" generated a lot of reactions from so many young Nigerians. Thanks for your comments and reactions. Though some of the comments are funny. A lot of people were of the view that the Nigerian youths are nowhere to be found, especially in politics while others are of the view that the youths are still sleeping. Well, the essence of this article is to awaken the sleeping youths. I strongly believe that the youths can rise again! There is still hope!
The resurrection of the dead is the highest miracle Jesus performed in the Bi-ble. Four days after the burial of Lazarus, Jesus brought him back to life (John 11.38-44). He also restored the life of the daughter of Jairus. He said to her, "Tal'itha cu'mi, which means, "Little girl, I say to you, arise!" (Mark 5:41). Instantly, the girl got up and walked. The burial was thereby canceled!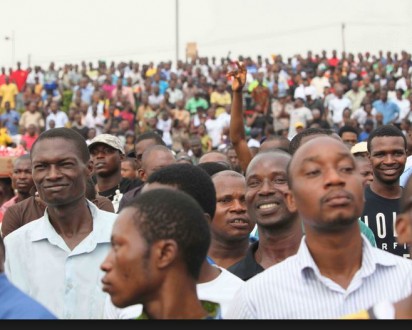 Child of God, no matter the situation you may find yourself, as a youth, there is still hope for you. You can still rise again! If you are from a poor family Jesus has come to enrich you. If you have no suitor, he has come to bless you with a life part-ner. No more academic failure for you! Jesus is saying to you, 'Daughter of Zion, arise and shine! Your pe-riod of sorrow is over! Those who were laughing at you will soon laugh with you.
The resurr-ection of the wi-dow's only son is the resurrection of Nigerian young men. In Luke 7:11-17, Jesus met a young man who was about to be buried. The dad must have died prematurely. There was nobody to con-sole the poor widow. What a hopeless situation!
As the widow was crying helplessly, Jesus said to her, "Do not weep" (Luke 7:14). Child of God, your period of sorrow is over! God has come to console you. Your period of unemployment is over! Your period of hard-ship is over! I see you rising again! I see you succeed-ing!! You will surely make it, in Jesus name – Amen!
After consoling the mo-ther of the dead young man, Jesus touched the bier and the bearers stood still. Child of God, all those who are busy preparing for your burial are going to stand still. From today, there will be no movement for your enemies. Those blood suck-ing demons are standing still. All the witches and wi-zards in your vicinity are standing still. Those who are sitting on your admiss-ion, promotion and position are disappointed. God has come to frustrate the evil plans of your enemies!
Jesus ordered the dead man, "YOUNG MAN, I SAY TO YOU, ARISE!" Immediately, the dead man sat up, and began to speak. That was the end of the bu-rial. Indeed, God is great!!! Child of God, the burial which the enemies planned in your family is hereby cancelled! "You shall not die!!!" (Psalm 118:17). Pre-mature death is not for you. You will live to the glory to God.
Fellow youths, the Lord God has remembered you. Now that he has canceled the burial He is now asking you to rise and shine. In Isaiah 60:1, the Lord decla-res: "Arise and shine; for your light has come." Child of God, anywhere you find yourself start shining. No-thing can stop you!
Jesus is telling you, "Let your light so shine before men, that they may see your good works and give glory to your Father who is in heaven" (Matthew 5:16). He also says, "By this my Father is glorified, that you bear much fruit" (John 15:8). Your success and your fruitfulness will surely bring glory to God.
The Lord will soon use you to deliver your nation. As He says through Jeremiah, "Before I formed you in the womb I knew you, and befo-re you were born I conse-crated you; I appointed you a prophet to the nation" (Jeremiah 1:5). You are that prophet that will take Nigeria to a greater height. God will use you to bring the long expected change!
Child of God, if you want to succeed then you must give your life to Jesus Christ. As he told his disciples, "Apart from me you can do nothing" (John 15:5). But with Christ, You must surely make it. One with God is majority!
St. Paul invites the Afric-an youths, "Awake, O sleep-er, and arise from the dead" (Ephesian 5:14). Child of God, arise from your slum-ber! Arise from failure and poverty! Arise from lazi-ness and procrastinations! Arise, for it is your turn to shine—Shine to the glory of God!
Shine for the develop-ment of your nation. Shine for the good of humanity! Shine for the salvation of souls! As you continue to shine, it shall be well with you in Jesus name. Amen!