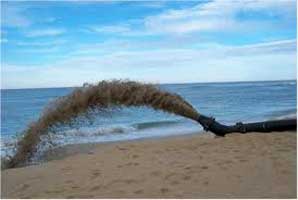 Sand dredgers on the river Niger
…Channelises 30 water routes
By Olasunkanmi Akoni & Monsuru Olowoooejo
LAGOS—THE Lagos state Government has expressed readiness to enforce relevant laws against illegal sand dredging activities in the state aimed at protecting the state ecological system.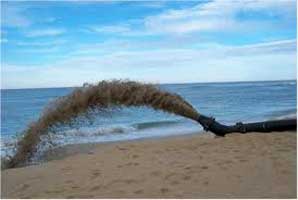 Meantime, the state Government has stressed that in view of the population, the state discovered that the road is not sufficient to move residents daily, hence, "we need water transportation to assist urgently."
Commissioner for Waterfront and Infrastructure, Adebowale Akinsanya and his Information and Strategy counterpart, Steve Ayorinde, made the remarks, yesterday, while speaking  with newsmen after inspection of the ongoing channelisation of four major waterways  in the state.
Akinsanya noted that the dredgers often engaged in their act without giving consideration to operators on the waterways in the state.
Akinsanya disclosed that to ensure total enforcement, the government has acquired facilities that would aid total clampdown.
"We have acquired facilities that would aid our enforcement against illegal sand dredging. I can assure residents of Lagos that they will begin to see our presence often, enforcing the law against illegal dredging on the waterways. It is something we need to take control of completely."
He stressed that enforcing the law would assist the government to take full control of activities on its waterways.
On the channelisation of 30 routes across the state, the commissioner said that government had commenced work on four routes and would add two additional ones before the end of the year.
According to the Commissioner, the four routes are:" Ojo-Marina, Bayeku in Ikorodu to Ajah axis, Ijede in Ikorodu to Marina and Ijede to Badore axis.
"The intention behind the channelisation is to have better route for ferry to travel in the state, thereby reducing their travel time and be able to prevent cases of grounded ships and ferry on Lagos waterways."
On the need to boost water transportation, Ayorinde, stressed that alternative means of transportation must be adopted because it has become obvious that the road alone cannot assist residents commute easily in Lagos."
"It is obvious that we can no longer rely on road alone, that is why we have decided that we need to embark on channelisation of the water routes in the state. This will reduce residents travel time and boost tourism."