By Victor Ahiuma-Young
GENEVA— THE International Labour Organisation, ILO, yesterday, unfolded a four-key policy 'pillars' in  efforts at ending  child labour across the globe by 2025.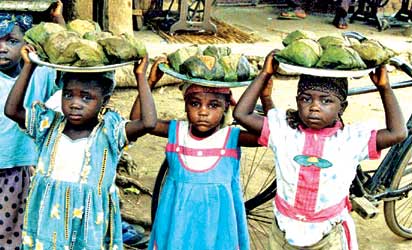 While calling on governments to step up efforts to "consign child labour to the dustbin of history, ILO listed boosting legal protections, improving the governance of labour markets and family enterprises,  strengthening social protection and investing in free, quality education as very key to eradicating child labour in 2025.
In a release to coincide with the IV Global Conference on the Sustained Eradication of Child Labour, in Buenos Aires, Argentina, from November 14 to 16, ILO said: "We are moving in the right direction, but we have to do so at a much faster rate," in its report, Ending child labour by 2025: A review of policies and programmes.
The body said: "Legislation alone cannot eradicate child labour, but at the same time, it won't be possible to eradicate child labour without effective legislation. More than 99.9 per cent of the world's children aged five-17 years are covered by the ILO's Worst Forms of Child Labour Convention, 1999 (No. 182), which 181 countries have ratified.
"Also widely ratified is the convention concerning Minimum Age for Admission to Employment, 1973 (No. 138), which 170 countries have ratified. But turning these standards into national laws remains a major challenge, as in ensuring effective monitoring and enforcement of existing child labour laws.
"There is also a need for stronger labour inspection systems as it rarely reaches workplaces in the informal economy, where most child labour is found."