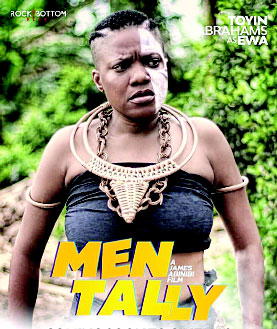 Produced, written and directed by  James Abinibi, 'Mentally' centres on the life of Akin, who despite his mother's warnings, decides to relocate to Lagos where his only contact Emeks (a former school mate) promised him enormous opportunities through which he could have a better source of livelihood. The movie features Kunle Idowu, Toyin Abraham, Woli Arole, Adekunle Gold, James Abinibi, Jude Chukwuka, Chris Okagbue and Soma. Others include Senator Comedian, Sunkanmi Omobolanle, Erick Didie, Wale Waves, Koloman Prosper  and  Chima Raphael.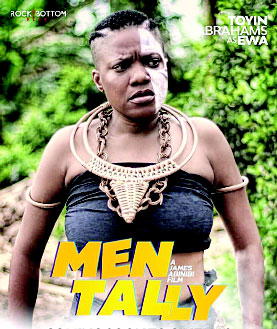 Hit
Makeup. James Abinibi's creativity as one of Nigeria's foremost graphic designers is evident in the white designs on the faces of the villagers. Attention was paid to detail in ensuring the artistic markings complemented the black attires of the villagers.
Misses
Script. This is the biggest issue with 'Mentally.' There are a number of inconsistencies with the story. At a point, the viewer is made to believe that Akin's actions were as a result of being under the influence of drugs but towards the end of the film, he wakes up. So is it a dream or reality? The ending points closer to it being reality which brings up several questions. How does Akin run from Lagos into a forest in broad daylight and end up in a village? How is he able to find his way back in time to wake up from the dream?
Directing. The cast boasts of some well known names in the industry but having stars does not make a movie. The director plays a huge role – from interpreting the script to ensuring the movie comes together as a whole. Unfortunately, 'Mentally' plays like a series of skits – some very funny, others wildly dramatic but mostly confusing.
Editing. The movie goes on and on with scenes needlessly dragging. What could have been established in two minutes, extends to five in some cases. The movie is plagued with talking heads and this makes the film further drag. A lot more work would have ensured some scenes (though funny) were eliminated so the story (or what is left of it) is properly told.
Morality Tale. While there is nothing wrong in a film teaching morals, the problem with 'Mentally' is that the morality tale overshadows the vehicle of filmmaking. The 'drugs are bad for you' message is put into the mouth of Akin who reels off the effect of cannabis. Even then, the messages are confusing because it is the same Akin who takes a puff and gains the confidence to successfully chat up some ladies. Yet in the end, he gets lucky and escapes the consequences of his actions.