By Eric Teniola
LT General Samuel Victor Leonard Malu, CFR (1947-2017), who died in Cairo, Egypt recently will be more remembered for his role as the President of the Special Military Tribunal that tried Lt.General Oladipo Diya (73), the then number two man in the country and others in 1998, than his tenure, as Chief of Army Staff under President Olusegun Obasanjo. Those close to him maintained that he was a General who had courage.
On December 21 1997, the Chief of General Staff who was the Number two man in the country, Lieutenant- General Donaldson Oladipo Diya from Odogbolu in Ogun State along with some officers were arrested at different locations in the country. They included Major General Tajudeen Olanrewaju, former General Officer Commanding 3 Armoured Division of the Nigerian Army and Major General Abdulkareem Adisa, who was then Minister for Works and Housing but had earlier served as Military Governor of Oyo State. Major General Adisa hailed from Ilorin in Kwara State. He was admitted into the Nigerian Military School, Zaria in 1962. He gained admission into the Nigerian Defence Academy on 3rd September 1967 as member of the 3 Regular Course.  During his tenure as Minister of Works, he set up a-3 man panel in 1997 to probe the construction of Ibadan – Ife Dual Carriage Way project which was badly constructed by a foreign Construction Company. The Probe Panel was headed by Lt. Col. Azubuike Ihejerika (as he then was) with Major Benjamin Muyiwa Badewole (as he then was) as the Secretary.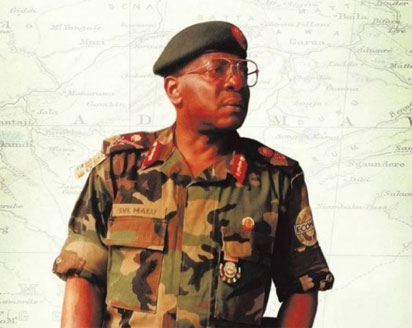 Major General Tajudeen Olanrenwaju(71) alias 'Jasper' from Isale Igangan, Lagos Island, was a former footballer at the Ahmaddiya Muslim College, Agege. He played football with the likes of Muyiwa Oshode, Ismaila Mabo, Tunde Disu, Garba Okoye, Olowo Oshodi and Tony Igwe.
Professor Femi Odekunle, Political Adviser to General Diya, was also arrested for the memo he had written to General Diya captioned "Confidential Memo Not For Filing".
From the account  of Lt. Col. Muyiwa Badewole who was assigned to defend Prof. Femi Odekunle at the Tribunal, the Professor, in the memo counseled General Diya to "test the limits of his power" as the Number two man instead of constantly grumbling and complaining of being sidelined by General Sanni Abacha.
Following the arrest of the officers, the then Head of State, General Sanni Abacha, operated without a deputy.
On January 3, 1998, the Chief of Defence Staff, Major General Abdusalmi Abubakar set up a Special Investigation Panel, SIP, made up of 12 Senior Military Officers to investigate  the  alleged coup plot. The Panel was headed by Major General Chris Abutu Garuba, from Ipole, Otukpa, Benue State. Major General Garuba who now attends regular Christian fellowship in Abuja with his pretty wife Rita, had served as Military Governor of Bauchi State.   Major General Garuba enrolled at the Nigeria Defence Academy as a member of the 3rd Regular Course in September 1967. Other members of his panel included Brigadier General Yusuf Abubakar, Navy Commodore Adeyemi Ambrose Afolayan, Group Captain AbdulRahman Sulayman, Lt. Col. Joseph Akaagerger, who later became the Governor of Katsina State was the Secretary of the SIP. The Panel recommended the setting up of a Special Military Tribunal to try the  arrested officers.
On February 10, the then Chief of Defence Administration, Rear Admiral Festus Bikepere Igbeyinadun Porbeni CFR, also of Course 3 of the NDA announced the setting up of a Special Military Tribunal, SMT, to try the detained Military Officers and some civilians. The seven man panel was headed by Major General Samuel Victor Leonard Malu,CFR, also of Course 3 of the NDA. Other members of the SMT included Brigadier General Karmashe and Brigadier V. Ombu. The Judge Advocate of the Tribunal was Lt-Col YJ Braimah. The Prosecution Team of the Tribunal included Col. Z Shuaibu and Col. Dave Ike while the members of the Defense Team included the then Col. Ovo Adhekegba, the then Col. JA Okunbor, Colonel Ahmedu, Lt Col. Muyiwa Badewole and  Lt Col. S Audu.  Admiral Porbeni gave General Malu's Tribunal one month to complete its sitting.
On February 14, the Tribunal held its first sitting in Jos, Plateau State. During the arraignment, General Diya asked the Tribunal 'where is the Chief of Army Staff, General Bamaiyi, the mastermind, the planner and the executioner of the coup'? The first Prosecution Witness was Brigadier General Patrick Aziza.
The trial was held in camera at the Rayfield GRA, Jos, Plateau State. The proceedings were filmed on a daily basis and sent to General Abacha for his personal viewing.
Before sentencing the officers, General Malu held a private meeting with General Sanni Abacha at the Villa in Abuja and intimated him of those guilty and those not guilty.  Gen. Abacha was shocked especially that Professor Odekunle was not found guilty.
On Tuesday April 28 1998, Gen. Malu's Tribunal sentenced Gen.  Diya and others to death. Those sentenced to death were Lt-Gen. Oladipo Diya, former Vice Chairman, Provisional Ruling Council, and Chief of General Staff; Major General Abdulkareem Adisa,50, former Minister of Works and Housing; Major General Tajudeen Olanrewaju,51, former Minister of Communications; Major Seun Fadipe, Chief Security Officer to Diya; Col. Olu Akinyode, former Military Assistant to General Olanrewaju   and a civil engineer, Bola Adebanjo, an associate of Diya. Four of the accused persons were convicted of "information gathering" and implication in the alleged coup plot, and sentenced to life imprisonment. They were Col. Edwin Jando, Mr. Isaiah Adebowale, Mr. Niran Malaolu (Editor of Diet Newspaper) and Mrs. Shola Soile. Major Fadipe, who was sentenced to death, had already pleaded guilty on the opening day of the trial." I am not here to waste anybody's time", he was quoted as saying. Two of the accused persons were convicted of theft and sentenced to 14 years' imprisonment: Lt-Col. I.E. Yankasai and Major Biliaminu Mohammed. Col. Yakubu Bako was convicted for illegal importation of fire arms and was sentenced to 10 years imprisonment. Three were convicted of theft and handling of stolen goods. They were sentenced to various prison terms: Ojeniyi Adeola(two years), Michael Maidamino(five years) and Galadima Tanko(two years). The Tribunal acquitted 14 persons on unspecified charges: Major Yusuf Isiaku, Navy Captain B.A. Shoetan, Warrant Officer Coker Oladosu, Staff Sergeant Moses Eni, Corporal I. Kontagora, Corporal Eddy Egbunu, Bawa Machido, Omatimehin Abimbola, Halima Bawa (female who was never shackled), Eliyasu Mohammed, Professor Femi Odekunle, Chief Yomi Tokoya, Mr. Musa Adede (a businessman) and Ibrahim Moussa Orgar.
Released uncharged on 20th April 1998: Colonel Daniel Akintonde,former Military Governor of Ogun State and Colonel Emmanuel Shoda.
In sentencing the officers, General Malu said there was overwhelming evidence proving Diya had amassed a small army of loyal troops by the time his plot to overthrow the regime was discovered. Malu, dismissed Diya's claims of innocence. "The findings of the Tribunal were that he presided over and actively participated in several meetings in which the coup was discussed." Malu said, "The coup would have been carried out on December 20, the day that most of the accused persons were picked up". He said soldiers had already begun moving into positions to overthrow the government. Malu also said Diya had no defence for having taken part in meetings that plotted the overthrow of Abacha." Any officer who was given any information or who was invited to a meeting should report to the authorities of the plot when they were approached by those he claimed initiated it," Malu said. On the directive of General Sanni Abacha, the then Secretary to the Government of the Federation, who was also the Secretary of the Provisional Ruling Council and Head of Service, Alhaji Gidado Idris, GCON, summoned a meeting of the Provisional Ruling Council for Monday June 8, 1998 to deliberate on General Malu's report either to confirm or reject the report. The 22 members of the Provisional Ruling Council included General Sanni Abacha, Lt. General Jeremiah Useni, Alhaji Ibrahim Coomasie, Inspector General of Police, Major General John Inienger, Major General Abduallahi Seriki Mukthar, Major General Mufu Balogun, Rear Admiral Taiwo Odedina, Major General Victor Malu, Rear Admiral Rufus Eyitayo, Commodore Victor Ombu, Lt. Gen. B. Haladu, Air Commodore Kamis Uwenwailiri, Major General Felix Mujaperuo, Major General Ishaya Bamaiyi, Major General Peter Shaa, Rear Admiral Mike Akhigbe, Commodore Anthony Oguguo, Major General Bashir Magashi and the Chief of Defence Staff, Major General Abdusalami Abubakar.
The confirmation by the Provisional Council would have led to the execution of General Diya and others on the night of June 8 or the following day June 9 in a purely Military fashion.
In the early hours of that Monday, June 8, 1998, General Sanni Abacha answered the final call.
The Provisional Ruling Council met no doubt on that day, not to deliberate on General Malu's report but to select General Abdusalam Abubakar as the new Head of State and Commander-In-Chief of the Armed Forces.
O July 9 1998, the Provisional Ruling Council headed by General Abdsalam Abubakar commuted death sentences passed on Generals Diya,Olanrewaju and Adisa over the alleged coup plot of December 1997 to jail terms. On March 12 2013, President Goodluck Jonathan pardoned some of the officers including General Oladipo Diya and late General Adisa.
General Malu was buried on October 28 at Tse Adoor compound Tongov, Mbajima, Katsina Ala in Benue state.