ByJimoh Babatunde
With  focus on agriculture as the next oil of the country's economy, many Nigerians with money to invest in the sector have developed interest in the sector but being held back by a lack of  technical know-how , while the smallholder farmers in the rural area  with the knowledge are looking for finance to expand their farms.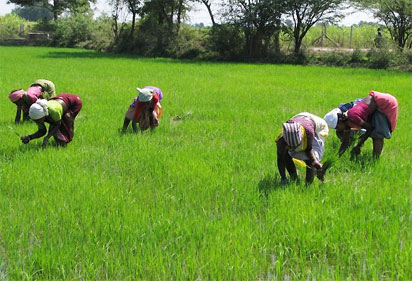 The over 38 million smallholder farmers in the country according to a survey are  not captured within the -bankable populace thus they are forced to operate at that small-scale level across the country.
To make these farmers have access to finance  and contribute to the country's domestic food production and  protect its food security, a group of young Nigerians came together to form  a Digital Agriculture Platform focused on connecting farm sponsors with real farmers .
The initiative which started from a single farmland in Oyo state, Nigeria with about 5000 day-old chicks, now boasts of over 4000 farmers across eight states of the federation.
Farmcrowdy, as it has come to be known,  is reshaping the way in which people participate in farming and food production, through using their online platform to source funds from sponsors, whose money is used to secure land, plant crops and meet the funding needs of boosting food production with small scale farmers.
Farm Sponsors can expect to see returns after harvest of 6-25% between a 3-9 month period, depending on what farm type they choose. Having worked with close to 2,000 small scale farmers in Nigeria already, the vast majority of Farmcrowdy sponsors are based in Nigeria, while 10% are located in the US and UK.
Rasheed Olaoluwa, former Managing Director, Bank of Industry (BoI), said what  farmcrowdy is doing is to  ease access to finance, adding :"What farmcrowdy is doing in essence is also providing the funding but not as a loan but in form of a partnership, a partnership where we actually work with the farmer almost on a day to day basis to make sure that the loan is not misapplied.
Onyeka Akumah, the Co-Founder and CEO of Farmcrowdy , during the first year anniversary of the firm in Lagos , stated that the organisation operates by rendering assistance to farmers in core areas of finance, provision of links to the right market and introduction to smart farming techniques for improved yields.
Emphasising on the need to reshape how farmers go about the trade, he stated that Farmcrowdy is achieving this through the deployment of its online platform to source funds from sponsors for the purpose of securing land, plant crops and meet the funding needs to boosting food production with small-scale farmers.
Providing explanations on the functionality of the platform, Akumah stated that it works by pairing farmers with sponsors to effectively manage the farming cycle with training in smart farming techniques, the supply of equipment and technical support.
He also announced the launch of its first App for Android, iOS and Windows mobile devices, stressing that the platform has introduced a new category of funding small-scale farming in Africa by allowing Nigerians to venture into and sponsor agriculture.
He added that farm sponsors can expect to see returns after harvest of six and 25 per cent in a three and nine month period depending on what farm type they choose.
According to him, since the launch of the website 12 months ago, Farmcrowdy has recorded close to 1,000 unique farm sponsors, aggregated a combined 4,000 acres of farmland in Nigeria for farming purpose and grown over 150,000 organic chickens to date.
His words: "We have about 38 million small-scale farmers in the country that are regarded as un-bankable; they lack adequate Agro-technology practice and access to a market for the farm produce.
"With our platform, we have been able to bridge these gaps by connecting people, who are interested in agriculture but lack the skill and time, to actually fund credible farmers. With the newly launched App which is currently on Google Play Store, it is even easier for investors to monitor farms they have invested in.
Speaking about risk management, Akumah, who assured investors of a viable partnership with Leaderway insurance, said that the platform derisked investors of the farms through insurance against uncontrollable natural disasters in order to build sustainability in the programme.
"A part of the agreement covers insurance of farms and the farmer. You cannot totally have control over everything that happens in agriculture but we try our best and also pray.
"The sharing formula is quite simple as we put investors and farmers first. We share the total income on the harvest by 40-40-20. Investors get 40%, farmers 40% and the other 20% is for Farmcrowdy.
"On expansion, we hope to extend to other countries but right now we want to empower Nigerians to produce Nigerian foods for Nigerians to eat. Later, it will be to empower Ghanaians to produce Ghanaian food for Ghanaians to eat, and so on across the continent," he noted.
For farmers who have benefited from the matching, it was praises galore for the scheme. For  Okon Archibong, the Managing Director of Archigreenland Farm in Ifo, Ogun State,  he said that he started a poultry in 2001 with about 2600 birds. It did not do very well.
"I got 4000 birds from Farmcrowd and it went well. Now, I have 6000 birds.
Observing that some of the challenges faced at his end are not connected to Farmcrowdy, Archibong advised investors to believe in the initiative's ability to grow as a way to help farmers.
Mr Godwin Ejeh, the Supply Chain Manager, Syngenta, said that his company was in Nigeria to assist farmers with innovative crop solutions that would transform crop production to enrich farmers.
Ejeh said that the company was partnering Farmcrowdy to provide improved seedlings, knowledge transfer to farmers on best agricultural practice to change the country's agriculture landscape.