..Pays off contractor N1.712bn
By Johnbosco Agbakwuru
ABUJA – THE Federal Government Wednesday announced that it has disengaged SCC limited from the maintenance of the 75km Gurara pipeline project.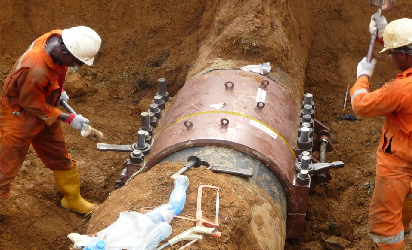 Consequently, the Federal Government has approved to pay off the company the sum of N1.712 billion for the maintenance services rendered in the past nine years.
The Minister of Water Resources,
Suleiman Adamu, who disclosed this while briefing the State House correspondents after the weekly Federal Executive Council, FEC, meeting presided by the Vice President, Yemi Osinbajo, at the Council Chamber, Presidential Villa, Abuja, said the memo for the payment of backlog of the contract sum was approved.
The Minister also said that they have negotiated with the contractor on what should be paid for the services rendered, adding that out of the N1.712 billion, the Ministry of Water Resources and the Federal Capital Territory, FCT, will share the payment on fifty, fifty basis.
He said, "Today, we presented another memo, which is complimentary to the memo I presented last week on the settlement of the 75km Gurara pipeline contract from Gurara Dam to lower Usuma Dam, a three diameter pipeline.
"Last week, we got approval to engage a contractor for one year and to have a training contract with the contractor so that we can prepare to handover to the FCT and the Ministry the project.
"This memo that was considered today has to do with the backlog of payment. The contractor as you are aware has been maintaining the pipeline since the project was completed in 2008 and there was no exit plan as such to take over the project, the contractor didn't want to leave the site and leave the pipeline unattended.
"He has been maintaining the pipeline in the last nine years without any compensation and as part of our policy to tidy up loose ends pertaining to ongoing projects or completed projects, we decided to disengage the contractor to pay him off for his services and to take over full control of the pipeline.
"So, we negotiated with the contractor for a fee to be paid to him for the service he rendered over the last nine years and we agreed that this money will be shared fifty, fifty between the ministry of Water Resources and the Ministry of Federal Capital Territory.
"So, the total amount is N1.712 billion over the course of nine years and the Ministry of Water Resources will pay fifty percent of that and the Federal Capital Territory will pay the remaining 50 percent and we all have made provisions for this money under the 2017 budget."