By Onozure Dania
The arraignment of  suspected billionaire kidnapper, Chukwudumeme Onwuamadike, popularly known as Evans, on two separate charges before Justice Adedayo Akintoye of a Lagos High Court sitting at Igbosere was, yesterday, stalled as the prosecutor is yet to complete service on the defendants counsel.
Evans was charged alongside Joseph Ikenna Emeka, Victor Aduba and Okpara Linus.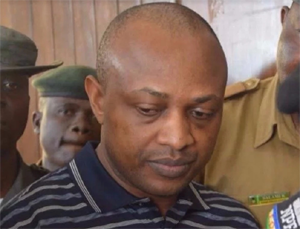 The defendants are being charged with five counts bordering on conspiracy to kidnap, kidnapping and attempted murder, preferred against them by Lagos State.
The offences committed are contrary to Section 411, Criminal Law Cap C17, Vol 13, of Lagos State 2015, Section 271 (3) and Section 230 (A) Cap C17, of the Criminal Laws of Lagos State, 2015.
The third defendant's counsel, Emmanuel Ochai, was absent, while the fourth defendant, Okpara Linus, had no legal representation.
Ogungbeje and the second defendant's counsel, O. Ogu, informed the court that he has not been served with the information, while Ogungbeje said he was only served with one of the information contained in the charge.
Lagos State prosecutor, Ms Titilayo Shitta-Bey, told the court that she had filed fresh and amended information, which she had served on the first defendant's counsel, Olukoya Ogungbeje, but that she was yet to serve the other defendants' counsel.
Justice Akintoye ordered the prosecution to serve the defence counsel with all the necessary information before the next adjourned date.
She also ordered the third defendant, Victor Abuba, in the first charge to make sure that his lawyer appears in court on the next adjourned date, while asking the fourth defendant, Okpara Linus, to also come with his lawyer, otherwise the court will provide him with one.
He ordered the defendants in the two separate charges remanded in prison custody and adjourned the two cases to November 24.
for arraignment.
Shitta-Bey said: "It ýis the fourth defendant, Okpara Linus, that was added in this fresh charge. We only want to bring the information before the court so that he can be remanded in prison in view of the fact that we have not served the other counsel."
On the second charge Evans, was charged alongside Joseph Ikenna Emeka, Ugochukwu Nwachukwu and Victor Aduba.
They are being charged on two-count charges bordering on conspiracy to kidnapping contrary to section 411, Cap C17, Vol 3 of the criminal law of Lagos state 2015 and kidnapping contrary to section 271 (3), of the criminal law of Lagos state 2015.
The first defendant's counsel Ogungbeje, who is also representing the third defendant Nwachukwu, told the court that the information that was served on him by the prosecutor doesn't have the name of the third defendant.
Meanwhile,