By Vincent Ujumadu
WHEN the second republic Vice President, Dr. Alex Ekwueme took ill and was admitted in a private hospital in Enugu, one person who felt so bad about the development, especially when it was reported that the 85 year-old lawyer and architect was in coma, was Chief Ben Ezeibe. Ezeibe is from the same Orumba North local government area of Anambra State as the former Vice President. Though much younger, he had remained a loyalist of Dr. Ekwueme for nearly 60 years.
In 1958/59 when Ekwueme contested for the Eastern House of Assembly election in that constituency on the platform of the defunct NCNC, Ezeibe was then in primary school. When he spoke with Saturday Vanguard, Ezeibe said "it was then that I first saw him and liked him and since then I have remained very close to him despite our age difference."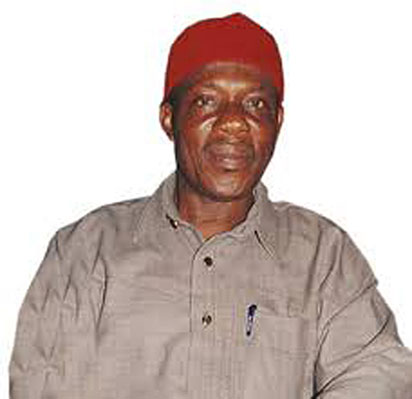 He said further: "In 1985 when Ekwueme was in detention, I was privy to assist in paying salaries of staff of defunct Alustar Aluminium Industry at Oko onwed by Ekwueme. When he came out of prison, he invited me and we established Star Precision Foundaries to produce fabricated spare parts at Oko in 1987/88, an association that further cemented our closeness.
Speaking on his present illness, Ezeibe said indeed Ekwueme's family was already planning to fly him out for treatment when the presidency stepped in and, naturally the family had to go into the background because as a former number two citizen of Nigeria, he is the responsibility of the Nigerian government.
Ezeibe said: "Once President Muhammadu Buhari announced the intervention of the presidency to fly Ekwueme out of the country for treatment, every other person decided to hands off because this is a matter which he is entitled to.
"This is what it should be, although I do not know if he has been getting his due benefits as the former Vice President of Nigeria over the years.
"But one thing stands out about him and that is that Ekwueme is a workaholic. He is also one man who does not like to disappoint anybody and that is why one would always see him in public functions he is invited. That may also be why some politicians have been exploiting his knack for honouring invitations.
"However, at his age, he should be allowed to rest because he is a human being.    Ekwueme is a legend and an elder statesman. He has never been a controversial person and at the age of 85 years, no one sees him as a political opponent.
"He has routinely been blessing all the politicians that go to him for the forthcoming Anambra governorship election and the fact that his daughter is a running mate to the PDP candidate should not be interpreted to mean that he is partisan, after all he had earlier given his blessings to Governor Wilie Obiano, who is seeking reelection on the platform of All Progressives Grand Alliance, APGA.
Indeed, during the flag off of the PDP governorship campaign at the All Saints Cathedral Field, Onitsha, which perhaps was his last official outing before he fell sick, Ekwueme did not actually speak as a partisan politician. Rather, his speech harped more on the need for Nigerians to be united to be able to realize the nation's desired goals.
He, on that occasion, went down memory lane on how the G34 of which he was a prominent member, metamorphosed into the PDP and how the group worked together in the interest of the country. And despite the treatment meted to him by the party, especially what transpired during the party's presidential primary before the 1999 general elections, which he was coasting to win until the eleventh hour, he had remained a consistent member of PDP.
In fact, while many members of the G34 were jumping from one political party to the other since the emergence of the current political dispensation, Ekwueme had never looked in any other direction outside PDP and this explains the respect he is accorded in the party.
Ezeibe said further: "Let nobody in the Anambra election regard Ekwueme as an opponent. I can tell you that Ekwueme was not privy to his daughter, Mrs. Chidi Onyemelukwe, becoming a running mate to the PDP candidate as it was people outside his family that dragged his daughter into the race. But even at that, we also know that Ekwueme's son, Ogochukwu, is a special assistant to Governor Obiano who belongs to APGA and that explains his fatherly figure in Anambra State.
"Besides, Ekwueme cannot even pose as a threat to any of the candidates in the election as he may not even go out to vote on that day because he regards all the candidates as his children. His concern is that Anambra should be governed by the best of the candidates vying for the office of governor."
The prayer of Anambra people is that on March 17, 2018 when a new governor would be sworn in at the famous arena in Awka named after him, Ekwueme would be there live to witness the ceremony, irrespective of who would emerge victorious in the November 18, 2017 poll.
Subscribe for latest Videos